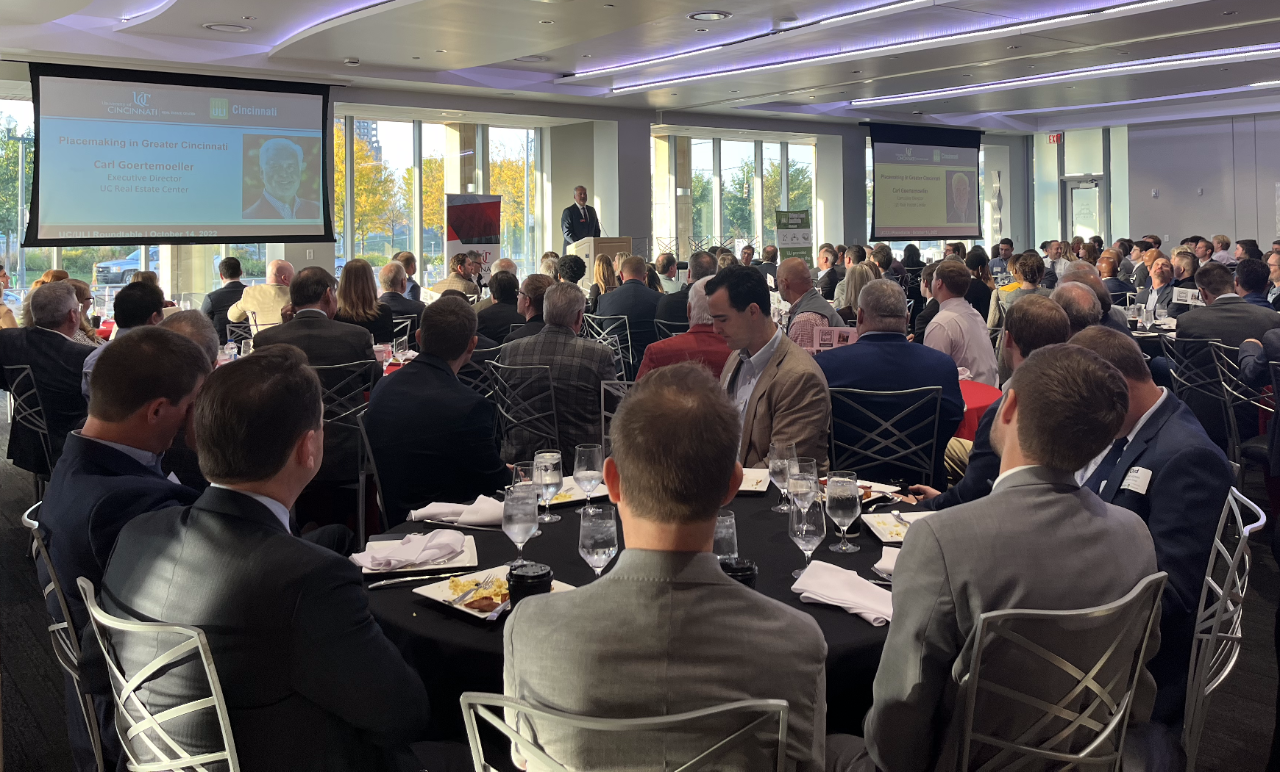 The Real Estate Center, in conjunction with our Premier Partner, PNC Bank, is proud to present our 38th season of networking, national and international speakers, and access to industry leaders.
In 1983, the UC Real Estate Roundtable was created to establish and maintain links between the university and the business and real estate communities. The Roundtable series features guest speakers who present their ideas, thoughts and perspectives on topics that impact the real estate industry. The Roundtable Series strives to:
Encourage interaction between real estate professionals and UC students and faculty.
Address issues and topics relevant to the real estate industry and leading professionals.
Expose real estate professionals to industry research conducted at UC and elsewhere.
Our Roundtable membership is comprised of an average of more than 200 industry leaders each year. As our numbers continue to grow, the roundtable promises to be a rich opportunity for high-quality programming and networking.
The following is a partial listing of prominent industry leaders who have appeared as guest speakers at Roundtable events. 
Gerald D. Hines, founder of Hines
Sam Zell, founder and chairman of Equity Group Investments
Roger Staubach, Executive Chairman, Americas, JLL; former pro-football player, Dallas Cowboys
John F. Barrett, Chairman, President and CEO, Western & Southern Financial Group
Tom Williams, President/CEO, North American Properties 
Stuart G. Hoffman, Senior VP and Senior Economic Adviser, PNC Financial Services Group
Dan Neyer, President/CEO, Neyer Properties
Jeff Edison, Chairman and CEO, Phillips Edison & Company
Mark Addy, President and CEO, Phillips Edison Grocery Center REIT
Ozie Davis, President, Ozie Davis & Associates
C. Kevin Shannahan, CEO of Hines U.S. Midwest and Southeast Regions
Frank Cohen, Senior Managing Director in the Real Estate Group, Blackstone
Thomas McGee, President and CEO, International Council of Shopping Centers
David LaRue, President and CEO, Forest City Realty Trust, Inc.
Tom Banta, President, Corporex
Spencer Levy, Head of Research, CBRE
Garrick Brown, VP, Retail Intelligence, Cushman & Wakefield
Leonard Kiefer, Deputy Chief Economist, Freddie Mac
Yaromir Steiner, Founder & Chief Executive Officer, Steiner & Associates
Emerick Corsi, President; Forest City Development Corporation

To learn more about upcoming Roundtable programs and other news and events, please subscribe to our mailing list. On average we send out 3-4 communications monthly.
2020-21 Roundtable Events
Our 2020-21 Roundtable Series events were held virtually via Zoom.
Friday, May 14
9:00–10:00 a.m.
Leaders in the Cincinnati Food & Beverage Industry
Featured Speakers:
Joe Lanni, Co-Founder and Owner; Thunderdome Restaurant Group; Kenny McNutt, Founder, MadTree Brewing Company; Britney Ruby Miller, Chief Executive Officer; Jeff Ruby Culinary Entertainment

Friday, April 16
9:00–10:00 a.m.
Hospitality Rising
Featured Speakers:
Julie Calvert; President & CEO; Cincinnati Convention & Visitor's Bureau
Mike Conway; Chairman & Chief Portfolio Officer, Winegardner & Hammons Hotel Group, LLC
Anne R. Lloyd-Jones; Senior Managing Director, Director of Consulting & Valuation, HVS
Friday, March 26
9:00–10:00 a.m.
Retail in a post-COVID World
Featured Speaker:
Donald Wood; Chief Executive Officer; Federal Realty Investment Trust; North Bethesda, Maryland
Friday, February 19
9:00–10:00 a.m.
PNC Economic Outlook Conference
Featured Speakers: 
Stuart G. Hoffman; Senior VP and Senior Economic Advisor, PNC Financial Services Group
Greg Valliere; Chief U.S. Policy Strategist, AGF Investments
Friday, January 22
9:00–10:00 a.m.
The Office Sector in a Post-Pandemic World
Featured Speakers:
Kevin Hughes; Managing Principal, Cushman & Wakefield
Calvin Schnure; Senior Vice President; Research and Economic Analysis, NAREIT
Friday, December 4, 2020
9:00–10:00 a.m.
The Post-Election Political Landscape
Featured Speakers:
Rob Ellsworth, Partner & Cofounder of The Majority Group in Washington, DC
and Andrew R. Lewis, Ph.D., Associate Professor of Political Science, University of Cincinnati
Friday, November 13, 2020
9:00–10:00 a.m.
3CDC: Past, Present and Future
A look back at the non-profit developer's key projects and
how the organization is moving forward during the pandemic
Featured Speaker:
Stephen G. Leeper, President & CEO of 3CDC
Thursday, October 8, 2020
8:30–10:30 a.m.
ULI-UC Joint Event: A year like no other
How COVID-19 is influencing the regional impact on real estate
Hosted by:
Kay Geiger, President Greater Cincinnati & Kentucky, PNC Bank
and Tom Williams, President and CEO, North American Properties
Recent News and Upcoming Events
To learn more about roundtable events, contact the UC Real Estate Center at realestate@uc.edu or 513-556-5843.