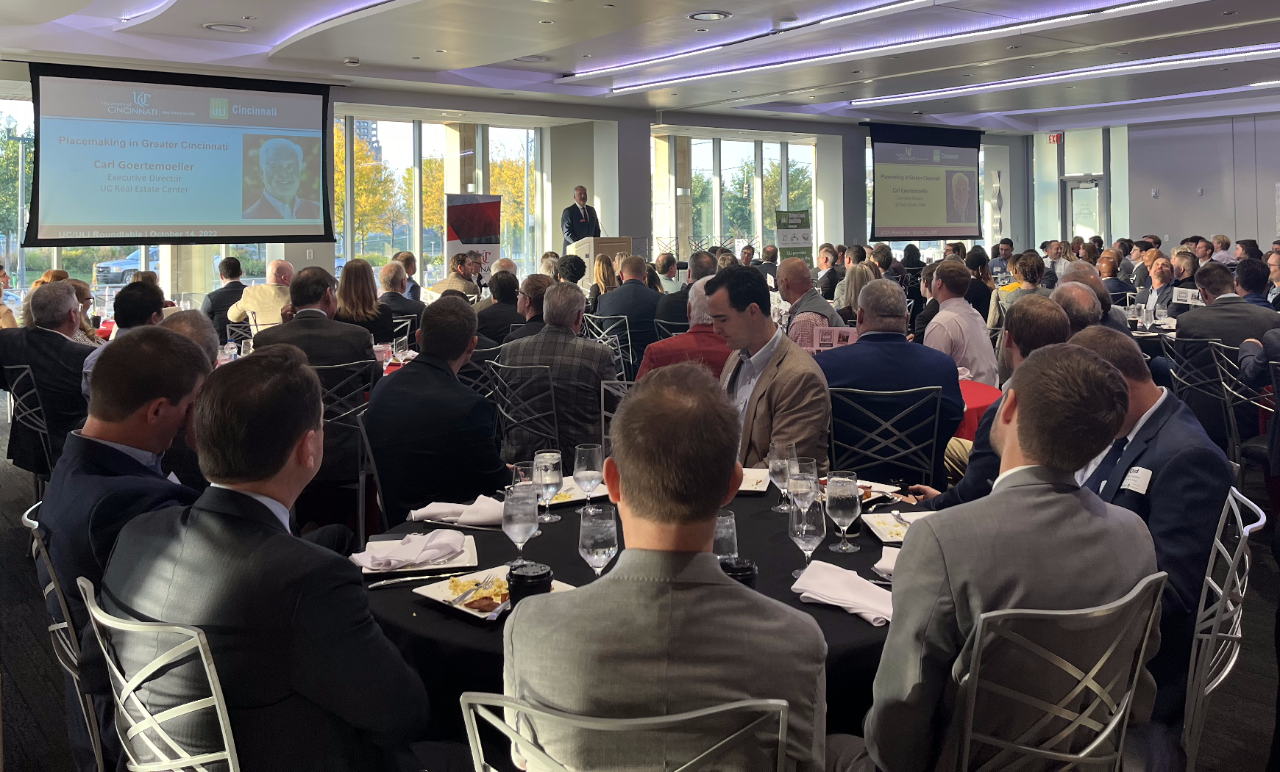 The Real Estate Center, in conjunction with our Premier Partner, PNC Bank, is proud to present our 37th season of networking, national and international speakers, and access to industry leaders.
In 1983, the UC Real Estate Roundtable was created to establish and maintain links between the university and the business and real estate communities. The Roundtable series features guest speakers who present their ideas, thoughts and perspectives on topics that impact the real estate industry. The Roundtable Series strives to:
Encourage interaction between real estate professionals and UC students and faculty.
Address issues and topics relevant to the real estate industry and leading professionals.
Expose real estate professionals to industry research conducted at UC and elsewhere.
During the 2019-20 year, our membership consisted of more than 300 industry leaders. As our numbers continue to grow, the roundtable promises to be a rich opportunity for high-quality programming and networking.
Our fall Roundtable programs are virtual events via Zoom and free of charge. Log-in instructions for those registering for the online event will be provided 48 hours prior to the event. Note there is a limit of 300 registrants for each event. 
Thursday, October 8
8:30–10:30 a.m.
ULI-UC Joint Event: A year like no other
How COVID-19 is influencing the regional impact on real estate
Hosted by:
Kay Geiger, President Greater Cincinnati & Kentucky, PNC Bank
and Tom Williams, President and CEO, North American Properties

Friday, November 13
9:00–10:00 a.m.
3CDC: Past, Present and Future
A look back at the non-profit developer's key projects and
how the organization is moving forward during the pandemic
Featured Speaker:
Stephen G. Leeper, President & CEO of 3CDC
REGISTER HERE>>
Friday, December 4
9:00–10:00 a.m.
The Post-Election Political Landscape
Featured Speakers:
Rob Ellsworth, Partner & Cofounder of The Majority Group in Washington, DC
and Andrew R. Lewis, Ph.D., Associate Professor of Political Science, University of Cincinnati
Recent News and Upcoming Events
To learn more about roundtable events, contact the UC Real Estate Center at realestate@uc.edu or 513-556-5843.