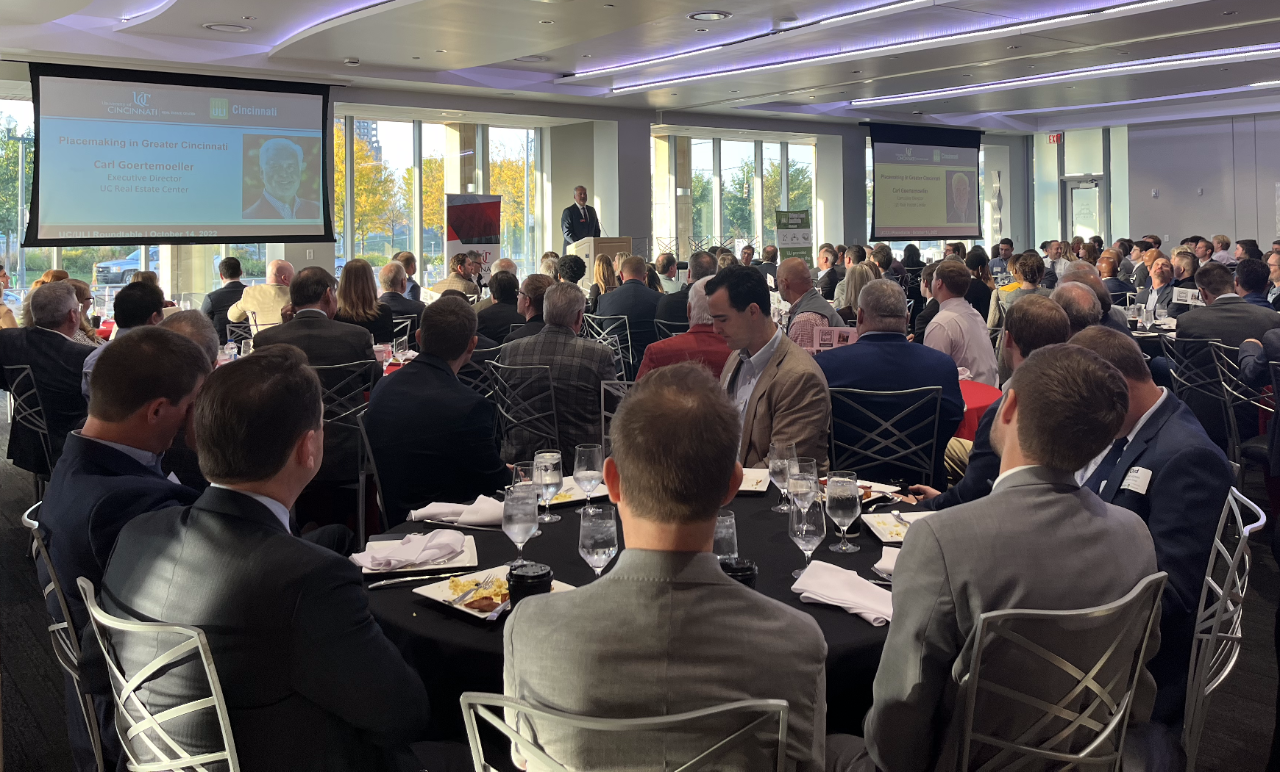 The Real Estate Center, in conjunction with our Premier Partner, PNC Bank, is proud to present our 39th season of networking, national and international speakers, and access to industry leaders.
In 1983, the UC Real Estate Roundtable was created to establish and maintain links between the university and the business and real estate communities. The Roundtable series features guest speakers who present their ideas, thoughts and perspectives on topics that impact the real estate industry. The Roundtable Series strives to:
Encourage interaction between real estate professionals and UC students and faculty.
Address issues and topics relevant to the real estate industry and leading professionals.
Expose real estate professionals to industry research conducted at UC and elsewhere.
Our Roundtable membership is comprised of an average of more than 200 industry leaders each year. As our numbers continue to grow, the roundtable promises to be a rich opportunity for high-quality programming and networking.
The following is a partial listing of prominent industry leaders who have appeared as guest speakers at Roundtable events. 
Gerald D. Hines, founder of Hines
Sam Zell, founder and chairman of Equity Group Investments
Roger Staubach, Executive Chairman, Americas, JLL; former pro-football player, Dallas Cowboys
John F. Barrett, Chairman, President and CEO, Western & Southern Financial Group
Tom Williams, President/CEO, North American Properties 
Stuart G. Hoffman, Senior VP and Senior Economic Adviser, PNC Financial Services Group
Dan Neyer, President/CEO, Neyer Properties
Jeff Edison, Chairman and CEO, Phillips Edison & Company
Mark Addy, President and CEO, Phillips Edison Grocery Center REIT
Ozie Davis, President, Ozie Davis & Associates
C. Kevin Shannahan, CEO of Hines U.S. Midwest and Southeast Regions
Frank Cohen, Senior Managing Director in the Real Estate Group, Blackstone
Thomas McGee, President and CEO, International Council of Shopping Centers
David LaRue, President and CEO, Forest City Realty Trust, Inc.
Tom Banta, President, Corporex
Spencer Levy, Head of Research, CBRE
Garrick Brown, VP, Retail Intelligence, Cushman & Wakefield
Leonard Kiefer, Deputy Chief Economist, Freddie Mac
Yaromir Steiner, Founder & Chief Executive Officer, Steiner & Associates
Emerick Corsi, President; Forest City Development Corporation
Donald Wood, Chief Executive Officer; Federal Realty Investment Trust; North Bethesda, Maryland
Rob Portman, United States Senator for Ohio
Noah Zelkind, Director of Business Development and Expansion Execution; 80 Acres Farms
Laura Brunner, CEO, The Port
Glenn Rufrano, Chairman of ICSC
To learn more about upcoming Roundtable programs and other news and events, please subscribe to our mailing list. On average we send out 3-4 communications monthly.
Thanks to our supporters that help make the Roundtables possible.
Cassady Schiller
Cincinnati Commercial Contracting
General Electric Credit
Kiesland Development
Matrix Holdings
Roundtable Series Membership
Membership to the 2022-23 Roundtable Series includes admission to the annual UC/ULI Conference, the UC/PNC Economic Outlook Conference, as well as all other Roundtable monthly events, October–May. Membership types include the following:
$3500 – Roundtable Supporter 
Two tickets to the annual dinner
One UC Real Estate Roundtable Membership*
Company's name listed on website and marketing materials
$495 – Roundtable Member
One UC Real Estate Roundtable Membership*
$395 – Civic Member Rate
One UC Real Estate Roundtable Membership*
$295 – Under 30 Member Rate
One UC Real Estate Roundtable Membership*
* Please note that Roundtable Supporters and Members may not send a representative to events in their place. Individual registrations for non-members will be available 3-4 weeks prior to each event at a cost of $95 per event.
Our programs feature a series of live events open to the public. Registration is required for each event. Admission is free for UC faculty and students. Monthly Roundtable events begin at 7:30 a.m. with check-in, networking, and a buffet breakfast. Programs start at 8:15 a.m. 
Our 2022-23 dates are as follows with more information soon to be announced:
Friday, October 14, 2022
UC/ULI Annual Conference
Placemaking in Greater Cincinnati
7:15 a.m. check-in, networking, and breakfast buffet
8:15–10:00 a.m. program
Anderson Pavilion, Smale Park
UC Real Estate Center and ULI Cincinnati are pleased to present a special program featuring current community revitalization projects in Greater Cincinnati.
The program will include introduction and opening remarks followed by a panel discussion and Q&A to include Tom Powers, Cushman & Wakefield; John Yung, Urban Fast Forward; and Carl Goertemoeller, UC Real Estate Center. 

Projects and Panelists:

Factory 52: Nick Lingenfelter, Chief Development Officer, PLK Communities
Ovation: Tom Banta, Chief Real Estate Officer, Corporex Companies, LLC
The District at Clifton Heights: Matt Starr, Executive Vice President of Commercial Development, Crawford Hoying
Montgomery Quarter: Dan Neyer, President and CEO, Neyer Properties, Inc.
Friday, November 11, 2022
Cooper Creek Event Center
Friday, December 9, 2022
Cooper Creek Event Center
Friday, January 20, 2023
Friday, February 17, 2023
UC/PNC Annual Economic Outlook Conference
Friday, March 17, 2023
Friday, April 14, 2023
Friday, May 12, 2023
To learn more about roundtable events, contact the UC Real Estate Center at realestate@uc.edu or 513-556-7059.