Board of Executive Advisors in Real Estate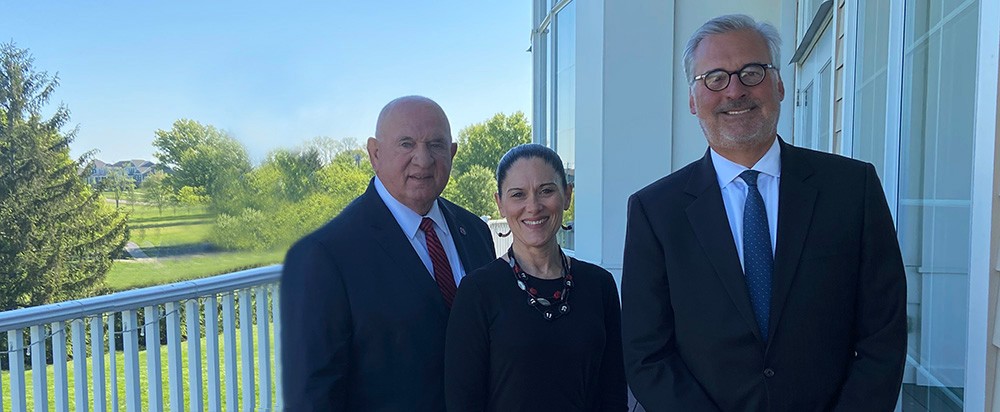 The University of Cincinnati Real Estate Center has been fortunate over the years to form a strong partnership with the business community. The Real Estate Center enjoys an excellent reputation for its research, collaboration and education in real estate.
The Board of Executive Advisors in Real Estate represents the top leaders in the real estate industry. Members serve on the advisory board to guide the direction of the Real Estate Center and the real estate program. Our goal is to cultivate one of the top real estate programs in the country.
We thank our corporate sponsors and BEARE members for their involvement and support.
Exclusive BEARE member opportunities:
Speaker events

International study tours

One-on-one connections with premier real estate professionals

Guide directions of the Center and academic programs
Mentoring and interacting with UC Real Estate students
Represent leaders in the real estate industry
Further real estate community connections and partnerships
Retention of high quality staff and academic programs
If you're interested in learning more about BEARE please contact the Real Estate Center at 513-556-7082 or email real.estate@uc.edu.
Mario San Marco
Senior Vice President, Economic Development, Western & Southern Financial Group
Doug Armbruster
Senior Vice President, Core 5 Industrial Partners
Brian Banke
Senior Director, Global Real Estate, Procter & Gamble
Scott Blanding
Senior Vice President, Viking Partners
Traci Boeing
Senior Vice President & Team Lead Commerical Real Estate, Wesbanco
Michael Brandy
President, Brandicorp
Susan Branscome
Senior Vice President, Managing Director Debt & Equity, NorthMarq Capital, LLC
Chad Burke
Principal, GBBN
Mark Caesar
CRE Regional Manager, BB&T Corp now TRUIST
Mark Cinquina
Executive Vice President, Regional Manager, PNC Financial Services
Craig Coffman
Chief Financial Officer/Chief Operating Officer, Uptown Rental Properties
Scott Csendes
Vice President, Director of Civic & Public Safety Group, KZF Design
Jeff Eichhorn
Executive Vice President, Schueler Group
Crystal Faulkner
Cincinnati Market Leader, MCM CPA's and Advisors
Stash Geleszinski
Managing Director, Capstone Companies
Jason Gibson
Principal, Anchor Associates
Louis Guttman
CEO, Hills Properties
Mike Habel
CEO, BHDP Architecture
Michael Heekin
Development Coordinator, Hunt Builders Corporation
Paul Richard Herndon
Attorney, Griffin Fletcher & Herndon LLP
Donald Huffner
CEO, Collier Enterprises
Chip Kupferberg
Principal, BlueMark Capital, LLC
Joe Lockett
Director, Real Estate & Facilities, Cincinnati Bell
Bob Luebbe
Senior Vice President & Regional Sales Manager, Fifth Third Bank
Sean McGrory
CPA, Clark Schaefer Hackett
Ryan Moore
Co-Founder and CEO, Last Mile Investments
Chad Munitz
Vice President, Towne Properties
Shenan Murphy
CEO, Principal, Cincinnati, Cleveland & Dayton, Colliers International
Rusty Myers
Executive Vice President, JLL
Kyle Neumann
Senior Vice President, Bellwether Enterprise
Dan Neyer
President/CEO, Neyer Properties
Greg Olson
CEO, Urban Sites
Ken Oswald
CEO, Oswald Company
Kelly Postlewaite, CPA
Partner, BKD
Tom Powers
Executive Managing Director, Cincinnati, Cushman & Wakefield
Nick Proffitt
Business Development Executive, Messer Construction Co.
Ryan Reardon
Vice President, Real Estate Development, Al. Neyer
Lee Robinson
Broker/Owner, Robinson Sotheby's International Realty
Jeanne Schroer
President/CEO, Catalytic Development Funding Corp. of Northern Kentucky
Kevin Schutte
Managing Director, Cincinnati/Dayton, CBRE
David Spaulding
Vice President & General Manager, Cincinnati, Turner Construction
Christina Sprecher
Member, Chair of Real Estate Practice Group, Frost Brown Todd LLC
Mike Spurlock
Director Commercial Mortgage Loans, Ameritas Investment Partners
Tom Stapleton
President, Eagle Realty Group
Adam Stypula
Market President, Cincinnati, Park National Bank
Dan Sutton
President/CEO, Kemba Credit Union
Daniel Utt
Partner & Real Estate Practice Group Leader, Keating Muething & Klekamp PLL (KMK Law)
Pamela Weber
Senior Vice President, PNC Real Estate Banking
Kristin Woeste
Partner, Vorys, Sater, Seymour and Pease LLP