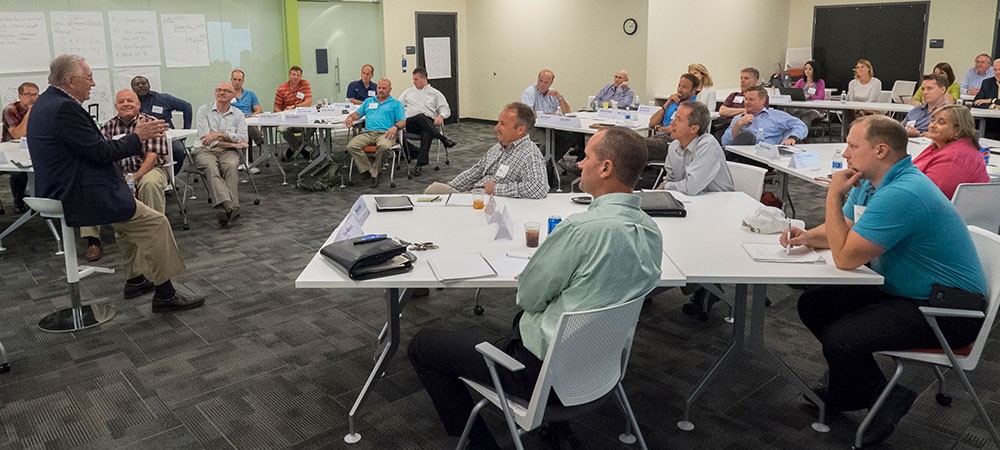 At the Goering Center, we offer a variety of educational programs to help you connect, learn and grow alongside other family and private business leaders.
While our institutes are the annually-recurring pillars of our curriculum, at our single-day events, multi-day events, and workshops you will hear from subject matter experts on topical issues, and collaborate with and learn from family and private businesses facing the same challenges you are.
Every program we offer is designed to provide you with knowledge, connection and community.
Breakfasts are geared towards family and private business-specific topics and oftentimes include a panel of business leaders, who share their own experiences.
Core members receive three complimentary breakfast entries with their membership. 
Greater Cincinnati business leaders come together for an informative program covering the topics that are trending in the business world. You'll hear from local CEOs, expert advisors and featured speakers, as they share their insights and perspectives on growing successful enterprises and enduring family and private businesses.

Multi-Day Programs can be virtual or in-person and are designed around topics or skills that can be modular, but represent parts of a whole. Typically these center around practical skills like developing financial acumen or comfort with setting pricing. Multi-Day Programs may or may not be annually recurring.
Best places to work are the result of a strong business culture. Culture is in fact the most critical component to business success. It may also be the most undervalued and underrepresented area of a business. It's hard for growing businesses to provide the leadership and resources needed to intentionally shape their culture. But cultures will develop on their own, and if left alone, may produce unintended and undesirable outcomes. Becoming a Best Place to Work: An Action Plan for Leadership is built especially, but not only, for resource-constrained companies who value and want the impact a great culture delivers.
Gain the methods, messaging, and tools to negotiate from a position of power and strength. Say goodbye to fear-based pricing and unnecessary discounting and hello to courageous pricing conversations, higher prices, and improved profits.
Too often, next generation successors and rising leaders are completely left out of and/or are overwhelmed by business finance conversations. In this program, new and emerging leaders become empowered to understand their company's financial data, giving them the confidence to engage in the conversation and make better business decisions.
This Webinar Series is designed to help business owners and top sales leaders understand what an efficient and effective sales organization needs to succeed as their selling environment gets tougher.
Interactive workshops are developed specifically for adult learners who appreciate a hands-on and practical approach to learning a new skill or opportunity for their business. Come prepared to roll up your sleeves, engage with other members and participate in activities that reinforce the practices behind the theories.