Stock Yards Bank & Trust Company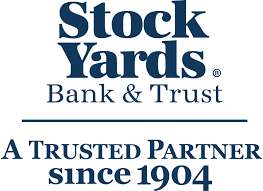 Stock Yards Bank was founded in 1904 and now has 37 branches in Cincinnati, Louisville and Indianapolis.  Stock Yards Bank consistently ranks among the strongest, fastest-growing community banks in the country, as measured by earnings growth and its high returns on equity and assets. The Company has been recognized by U.S. Banker on several occasions as one of the top-performing community banks in the nation. For its performance for 2014, S.Y. Bancorp also was named again to the KBW Bank Honor Roll and, for the third consecutive year, the 2014 Raymond James Community Bankers Cup. The Bank Director also recently named the Company to its "Top 50 Proven Performers" list as being one of 50 top-performing US banks (with at least $500 million in assets) in terms of both low costs and high returns.  
For 112 years, Stock Yards has thrived as a premier community bank.  Stock Yards has evolved from a small bank serving the livestock industry to a nationally recognized, regional bank known for exceptional service all supported by a strong capital structure and consistently strong asset quality.  Our capabilities align well with those of national banks, but our focus has always been building a comfortable relationship for our customers that can only be given by a trusted partner – an approach we refer to as "banking the way it used to be."  
Services include the full range of Commercial Banking products and services – Lending, Leasing, Depository Services including Treasury Management and Cash Management, Merchant Services and International Banking.  Additionally, we have experienced Private Banking and Wealth Management Groups that provide Deposit Solutions, Lending (mortgage / personal), Credit Cards, Online Banking/Mobile Banking, free ATMs anywhere in the world, Investment Management, Financial Planning, Trust Services and Retirement Planning. 
Past/current involvement with the Goering Center
Several of our bankers have participated in the Executive Luncheons over the past several years.  One of our Commercial Lenders, Greg Berting, has served as a mentor to new Core Members of the Goering Center.  Additionally, Greg has recommended several clients to the Goering Center.  Stock Yards was an Associate Member for the past several years. 
Special offer for Goering Center Core Members
We offer Core Members access to experienced bankers who specialize in working closely with business owners to offer them a customized solution for their financial needs.  Stock Yards built its reputation on banking family and privately owned businesses.  Additionally, our service model allows us to focus on existing clients.