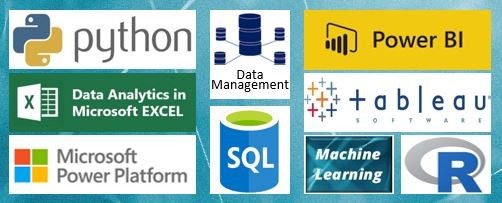 All Center instructors are carefully selected for their in-depth knowledge of the subject matter, practical real-world experience, and ability to communicate the subject in a clear and effective way.  They are data scientists, industry professionals and professors from leading finance, consulting, and data science companies and several universities.  Most have authored books and research papers and are recognized as leaders in their field.
SPENCER BAUCKE:  Principal Consultant, Data Viz Lead – Power BI at Tessellation
Courses Taught
Spencer Baucke is passionate about enabling organizations to leverage their data through data visualization, most notably Power BI and Tableau. He is a Microsoft Certified Data Analysts Associate, is co-founder of #WorkoutWednesday Power BI, and has enabled organizations to develop, share, and utilize Power BI reports across their enterprise. Spencer is also a former Tableau Public Featured Author, 14x Tableau Pubic Viz of the Day winner, and co-founder of the Tableau community initiative #SportsVizSunday. Spencer has been a speaker at TC18 in New Orleans, TCE19 in Berlin, and TC19 in Las Vegas.  Spencer has a BA in Economics from the University of Colorado Springs and an MS in Finance form the University of Cincinnati
BRAD BOEHMKE: PhD, Adjunct Professor, Director of Data Science at 84.51
Courses Taught
Python for Data Science: Introduction, Intermediate, Advanced
R for Data Science: Introduction, Intermediate, Advanced, Machine Learning with R, Text Mining with R, Deep Learning with Keras and Tensorflow in R 
Brad Boehmke is Director of Data Science at 84.51° where he develops algorithmic processes, solutions, and tools that enable 84.51° and its analysts to efficiently extract insights from data and provide solution alternatives to decision-makers.  He has a wide analytic skill set covering descriptive, predictive, and prescriptive analytic capabilities applied across multiple domains including retail, healthcare, cyber intelligence, finance, Department of Defense, and aerospace.
He works on applied analytic research, develops data analysis software, creates data science educational content, writes books, and provides analytic consulting services.
He is also an Adjunct Professor at the University of Cincinnati, Wake Forest University, and Air Force Institute of Technology where he teaches business analytics and R programming courses. Previously,heI was a Senior Operations Research Analyst with the Air Force and spent many years developing life cycle forecasting, risk and decision analysis models.
If you are interested in collaborating and doing some great work please reach out to him via:
Bill Bresler is a 'real world' project manager with 30+ years of experience currently leading analytics projects for the University of Cincinnati. He has also taught an undergraduate project management course and presented guest lectures on leadership for the University.
Bill started his career as a high school mathematics and physics teacher but soon found a home in the 'accidental profession' of project management. As a project and program manager, he has led teams as small as 2 to as large as 180+ professionals spanning multiple countries. Bill has worked with many organizations and industries including telecommunications, technology, manufacturing, distribution, health care, sports, finance, government and non-profits. Bill's basic 'how to' approach to project management has positioned those he supports to complete successful projects as recognized by the clients served.
 Bill is a certified Project Management Professional (PMP®) who holds two degrees from the University of Cincinnati: a dual major MBA in Quantitative Analysis and Marketing and a BSEd in mathematics (major) / physics (minor).
SHERAE DANIEL: Assistant Professor of Operations, Business Analytics and Information Systems at University of Cincinnati
Courses Taught
Sherae L. Daniel is an Assistant Professor of Operations, Business Analytics and Information Systems in the Carl H. Lindner College of Business at the University of Cincinnati. She earned her Ph.D. in Information Systems from the Robert H. Smith School of Business at the University of Maryland. Sherae's research seeks to reveal how to best manage collaboration challenges in nontraditional work environments. In particular, she seeks to uncover the keys that will unlock doors to future success for OSS collaborators. Sherae's research has been published or is forthcoming in premier outlets such as Information Systems Research, MIS Quarterly, and the Journal of Association for Information Systems. She is a member of the Association for Information Systems.
Teaching Interest Introduction to Information Systems, Excel, Spreadsheet Analytics, Database
Research Interests: Open source software, virtual teams
More information at https://business.uc.edu/faculty-and-research/departments/obais/faculty/sherae-daniel.html
ANDREW HARRISON: PhD, Assistant Professor of Information Systems at University of Cincinnati
Courses Taught
Andrew Harrison is an Assistant Professor of Information Systems in the Lindner School of Business at the University of Cincinnati. His research interests include consumer fraud, deception, security systems, privacy, media capabilities, and virtual worlds.  
Teaching Interest
Data Modeling
Database Design
Data Warehousing
Big Data
Object-Oriented Programming
Information Systems Management
Project Management
Research Interest
Fraud Detection/Deterrence
Information Systems Adoption
Knowledge Management
Virtual Teamwork and Distance Learning
JIM MONAHAN: Principal Consultant at Pinnacle Systems
Courses Taught
Jim Monahan is a Principal Consultant with Pinnacle Solutions Group where he focuses on data related business applications, systems analysis, business intelligence, and eCommerce. He holds a BS in Electrical and Computer Engineering and an MBA from the University of Cincinnati.He brings over 30 years of experience in systems across a wide range of industries and technologies including eCommerce and Data Warehousing.
JEFFREY SHAFFER, Adjunct Professor, Tableau Zen Master, VP Information Technology at Unifund
Courses Taught
Tableau Zen Master Jeffrey Shaffer is Chief
Operating Officer and Vice President of Information Technology and Analytics at Unifund and Recovery Decision Science. Mr. Shaffer joined Unifund in 1996 and has been instrumental in the creation and development of the complex systems, analytics and business intelligence platform at Unifund. Mr. Shaffer holds a BM and MM degree from the University of Cincinnati and an MBA from Xavier University where he was the winner of the 2006 Graduate Student Scholarly Project in Research. Mr. Shaffer has attended the Harvard Business School's Executive Education Program, is a Certified Manager of Quality and Organizational Excellence through the American Society for Quality, a Certified Project Management Professional through the Project Management Institute and has completed Six Sigma Green Belt and Black Belt training with the Xavier Consulting Group.
Mr. Shaffer is also Adjunct Professor at the University of Cincinnati in the Carl H. Lindner College of Business teaching Data Visualization where he was awarded the 2016 and 2021 Adjunct Faculty of the Year Award for Operations, Business Analytics and Information Systems. He is a regular speaker at conferences, symposiums, universities and corporate training programs on the topic of data visualization, data mining and Tableau. Mr.Shaffer has taught data visualization at the KPMG Advisory University, KPMG Global Analytics and for the University of Cincinnati Center for Business Analytics. He was a finalist in the 2011 Tableau Interactive Visualization Competition, one of the Elite 8 in the 2014 Tableau Sports Visualization Contest, the winner of the 2014 Tableau Quantified Self Visualization Contest and competed in the 2014 Tableau Iron Viz Contest. He is a five-time Tableau Zen Master, most recently selected as one of thirty-four Tableau Zen Masters in the world for 2020, and in 2021 was inducted into the Tableau Zen Master Hall of Fame. He is also the co-founder and leader of the Cincinnati Tableau User Group.
Mr. Shaffer is an author of The Big Book of Dashboards which was on the Shortlist for the Kantar Information is Beautiful Awards in 2017. He curates the TableauReferenceGuide.com and blogs regularly on the topics of Data Visualization and Tableau at DataPlusScience.com which was on the Shortlist for the Kantar Information is Beautiful Awards in 2016. His visualization Beautiful Trash was on the Longlist for the Kantar Information is Beautiful Awards in 2017 and featured as one of the 75 Truly Creative and Brilliant Infographic Design Examples of 2017 by Column Five Media.
ETHAN SWAN: Adjunct Professor, Lead Data Scientist at 84.51
Courses Taught
Ethan is a Chicago-based data scientist, technology specialist, and teacher. and a lead data scientist at 84.51°, where he designs and builds tools that simplify the work of other data scientists, often in the form of Python packages. He has been teaching courses on Python, Linux, and other data science technologies since 2016. He holds a BS in computer science and an MBA from the University of Notre Dame, and is an adjunct instructor at UC.
He is also an adjunct instructor at the University of Cincinnati, where he teacesh workshops and courses on Python's applications in data science. You can see all the offerings, along with descriptions and the date of next delivery.  Beyond his formal work, he offers private office hours to help with data science tools and does some freelance data science consulting.  
In his free time, he consumes myriad podcasts and newsletters, and keep tracks of his favorites on his blog. He has hos own podcast. Occasionally he dabbles in personal coding projects as well, and he blogs about some of those projects.
Website: ethanswan.com
Twitter: @eswan18
GLENN WEGRYN: Executive Director, UC Center for Business Analytics and Adjunct Professor at University of Cincinnati
Courses Taught:
Excel: MOS Excel Associate, MOS Excel Expert
Glenn Wegryn has more than 30 years of global experience in Analytics. He spent 28 years at Procter and Gamble, most notably as the creator and leader of P&G's award winning Supply Chain Analytics Group. He is a three-time finalist for the Franz Edelman prize awarded annually by the Institute for Operations Research and the Management Sciences (INFORMS) for advanced analytics applications. Wegryn and his team were recognized for optimization techniques that saved P&G hundreds of millions of dollars.

Glenn retired from P&G in 2012 and founded Analytic Impact LLC, an independent consultancy providing supply chain analysis and Analytic thought leadership to organizations looking to gain the competitive advantage analytics can offer to them. An active speaker and advocate for Analytics in the Boardroom, Glenn has shared his experiences at conferences, CIO and CMO events and has been an invited speaker at Fortune 500 companies, and at University of Cincinnati, Wayne State and University of Texas at Austin events. He currently serves as an advisor to the Business Analytics programs at UC and UT. Glenn earned a BS in Quantitative Business Analysis from Indiana University and is an INFORMS Certified Analytics Professional.
GABE WELP: Senior Technical Analyst at Amend Consulting
Classes Taught
MS Power BI: Introduction, Advanced, Introduction to Advanced Data Analysis with Power BI
MS Power Platform Fundamentals

Gabe is a Senior Technical Analyst at Amend Consulting.  He specializes in Business Intelligence projects, and has implemented and developed enterprise-wide reporting solutions for a diverse group of companies spanning multiple industries. The majority of Gabe's Business Intelligence projects have relied heavily on Power BI. Gabe received his BA in Economics from Brown University. Gabe worked at The Kroger Co. in their finance group before joining AMEND in 2018.