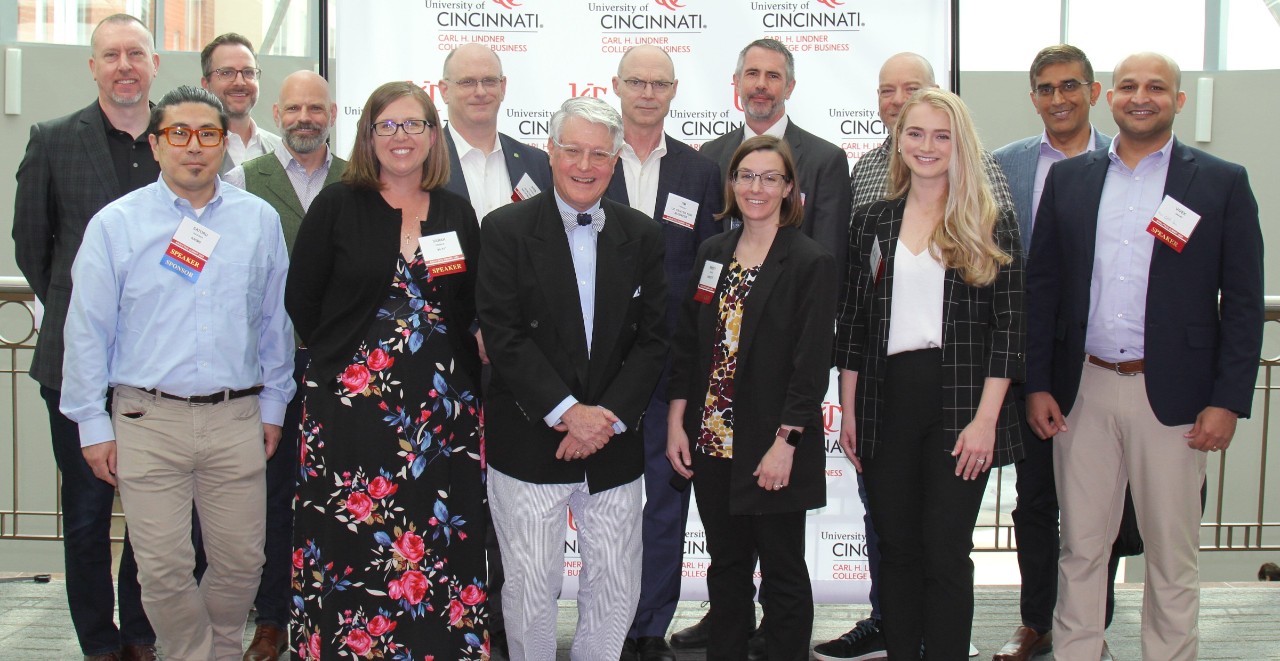 Our flagship event brings internationally-recognized speakers from notable organizations presenting on a wide variety of analytic topics.  The Analytics Summit 2024 will be an in-person event on April 30, 2024 at the Sharonville Convention Center in Cincinnati, OH.  This full-day event will feature an opening keynote speaker, a closing keynote speaker, and five topic or industry focused track sessions with three speakers in each.
This event is open to the public and everyone is invited!
The Center welcomes speaker and sponsorship inquiries.  Please contact Larry Porter for details.
Christina Qi, CEO @ Databento
Title:
"2023:  Fantastic Machines and How to Tame Them"
Abstract: TBD
Bio:  Christina is an expert in the field of Artificial Intelligence and cloud computing and holds her BS in Management Science from MIT. A Forbes "30 Under 30" honoree, Christina is a Member of MIT's Board of Trustees. She has deep expertise in data science, data management, and related fields. In her talk, she will explore the meteoric rise and unintended consequences of the latest trends, including CHatGPT and Lensa, and the inevitable decision that every company will have to make (bot or no bot)?. Through personal stories and unexpected encounters, she'll discuss data access and affordability (why does the cost of data rise each year?) as well as common biases when analyzing data (why does it work in simulation but not in the real world?). She  will explore the advantages and short comings of theses technologies in our daily lives.
Xiao-Li Meng, Jones Professor of Statistics, and the Founding Editor-in-Chief of Harvard Data Science Review

Title:
"Being, Training, and Employing Data Scientists:   Wisdoms and Warnings from Harvard Data Science Review"
Abstract: "What Does It Take to Be a Successful Data Scientist?" "Is Data Science Education a Jack of All Trades?" "How Can We Train Data Scientists When We Can't Agree on Who They Are?" These thought-provoking questions are the titles of articles in Harvard Data Science Review (HDSR). This talk surveys and reflects on data science training, employment and deployment in the BIG (Business, Industry, and Government) world based on such articles, and many more.

Bio: Xiao-Li Meng, the Founding Editor-in-Chief of Harvard Data Science Review and the Whipple V. N. Jones Professor of Statistics, is well known for his depth and breadth in research, his innovation and passion in pedagogy, his vision and effectiveness in administration, as well as for his engaging and entertaining style as a speaker and writer.
FIVE ALL-DAY TRACKS - 15 SESSIONS
Business Intelligence
Advanced Analytics
Operations Analytics
Public Analytics
Commercial Analytics
Opening Keynote Speaker
"Waiting is Not an Action:  World-Class Data & Analytics Leadership is Needed Now!"
Andy Walter
P&G (retired) / AJW-Advisory LLC
With two years now of incredible disruption, transformation, and acceleration across every industry, the Data & Analytics Leadership needed now is changing rapidly. Andy Walter – Board Director & Strategic Advisor and Author of Waiting is Not an Action, will explore the latest industry trends and insights from over twenty Analytics Leaders, and provide actionable steps for you now and into the future.
Closing Keynote Speaker
"Building a Modern Data Strategy"
Kathy Koontz
Amazon Web Services 
Applying old organizational models and methodologies to modern cloud technology won't allow companies to achieve the kind of results and agility they expect. Companies need an operating model, organizational model, and data literacy approach that enables data-driven decision making throughout an organization. In this session, we will explore:
The people, process and technology considerations in building a modern data strategy

Methods for driving agility across the business

Getting your teams into a data-first mindset
Supply Chain Analytics Track Speakers
Evaluating Roadway Safety Performance: An Iterative Approach
Peter Fortunato & David Shuey: OKI Regional Govts
Leveraging Emerging Supply Chain Technologies to Drive Efficiency
Adrian Kumar: DHL
Title TBD
Ian Smith from REDI Cincinnati     

Operations Analytics Track Speakers
 
Prescriptive Analytics in Action - Inventory Management
Doug Meiser and Joe Ratterman: Amend Consulting, Nick Austin: F&M Mafco

Whole Hospital Modeling for Patient Flow
Tyler French: UC Health & Denise White: University of Cincinnati

Test Analytics
Ryan Fitzpatric: GE Aviation
Marketing/Retail Analytics Track Speakers
Using ML to Improve Data Quality and Drive Customer Preference
Perry Seal & Mini Rajkumar: Kroger,  Kris Still: CoStrategix

Marketing Analytics (B2B Commercial Sales)
Branden Pauly: Meritor

Building an Innovation Ecosystem
Dan Whitacre: Kroger

Analytics Management and Leadership Track Speakers

Data Centricity as the best solution to manage complexity in the digial age
Ruben Sardaryan: Infocratic
Predictive Analytics in Business context and end-to-end machine learning applications"
Ankita Mangal: Procter and Gamble

Analytics Leadership in a Time of Crisis
Zahir Balaporia: FICO
Analytics Technology Track Speakers
 
Predicting Trends That Matter: How to Use Social Data and AI to Develop Impactful Predictions
Michael Howard: NicheFire & Joe Kikta: USBank
AI About the Data Lakehouse
Bill Inmon: Forest Rim Technology
Beyond the Noise: Generating Recommendations with Graph Data Science
Zach Blumenfeld, NEO4J
Post-Event Networking
 
Third Eye Brewing (across the street from the Convention Center)

Analytics Summit 2022: Selected Videos from Ruben Sardaryan and Bill Inmon
Due to travel difficulties, these speakers presented via Zoom and allowed us to share their talks.  All other presentations were live and were not recorded.  
Replace this text component with your accordion's content.
Analytics Summit 2021: Session 1 - April 6
KEYNOTE SPEAKER  12:05 - 12:45 PM
Rama Akkiraju
IBM Fellow
IBM
Making AI work for companies: RACE your FACTS - a methodology perspective
Abstract: There is renewed interest among companies these days to implement and deploy AI models in their business processes either to increase automation or to improve human productivity. AI models are making their way as chatbots in customer support scenarios, as doctors' assistants in hospitals, as legal research assistants in the legal domain, as marketing manager assistants in marketing, and as face detection applications in the security domain, just to name a few use cases. Making AI work for enterprises requires a whole new and different set of concerns to be addressed than those for traditional software applications or for consumer-facing AI models such as targeted advertising and product recommendations. These new concerns include robustness (R), accuracy and adaptability (A), continuous learning (C), explainability (E), fairness (F), accountability (A), consistency (C) and transparency (T). In addition, building high quality and scalable AI models requires a specific kind of discipline, methodology, and tools. Data Scientists and practitioners need prescriptive guidance, tools, methods, and best practices on how to procure data, and build, improve and manage their AI models while addressing the concerns mentioned above. In this talk, I will present our best practices for making AI work for enterprises based on our first-hand experience of building scalable AI models for enterprises.
Bio: Rama Akkiraju is an IBM Fellow, Master Inventor and IBM Academy Member at IBM's Watson Division where she is the CTO of AI Operations, an effort to optimize information technology (IT) operations management using Artificial Intelligence (AI). Prior to this role, Rama also led the AI mission of enabling natural, personalized and compassionate conversations between computers and humans. Rama has been named by Forbes as one of the 'Top 20 Women in AI Research' in May 2017, has been featured in 'A-Team in AI' by Fortune magazine in July 2018 and named 'Top 10 pioneering women in AI and Machine Learning' by Enterprise Management 360 in April 2019. Rama is the also the recipient of the University of California, Berkeley's Athena award for Technical and Executive Leadership for 2020.

In her career, Rama has worked on agent-based decision support systems, business process management, electronic market places, and semantic Web services, for which she led a World-Wide-Web (W3C) standard. Rama has co-authored 4 book chapters and over 100 technical papers. Rama has 30+ issued patents and 25+ pending. She is the recipient of 4 best paper awards in AI and Operations Research. Rama served as the President for ISSIP, a Service Science professional society for 2018 and continues to actively drive AI projects through this professional society. Rama holds a Master's degree in Computer Science and has received a gold medal from New York University for her MBA for highest academic excellence.  
Speaker 2: 12:50 -1:30 PM
Missy Cummings
Professor in the Department of Electrical and Computer Engineering
Duke University
Future Pitfalls and Promises of Safety on Autonomous Systems
Abstract: With vehicle technology getting more sophisticated year after year, the autonomous operation of cars, trucks, and even airplanes is on the near horizon. How will this technology change the way we drive and fly? What are the potential sociotechnical impacts of this type of engineering? Dr. Missy Cummings – a former Navy fighter pilot and current expert on autonomous system collaboration from Duke University – will answer those questions and provide recommendations for the path forward.
Bio:  Professor Mary (Missy) Cummings received her B.S. in Mathematics from the US Naval Academy in 1988, her M.S. in Space Systems Engineering from the Naval Postgraduate School in 1994, and her Ph.D. in Systems Engineering from the University of Virginia in 2004. A naval pilot from 1988-1999, she was one of the U.S. Navy's first female fighter pilots. She is currently a Professor in the Duke University Electrical and Computer Engineering Department, and the Director of the Humans and Autonomy Laboratory. She is an AIAA Fellow, a member of the Defense Innovation Board and a member of the Veoneer, Inc. board.
Analytics Summit 2021: Session 2 - May 4
Technical Talk: 1:40 - 2:20 PM
Andrew Harrison
Assistant Professor
Lindner College of Business University of Cincinnati
Data Integration: The Foundation of Analytics
Abstract: In modern digital systems, data is plentiful. However, firms continue to struggle with squeezing value from that data because it is often unorganized, incomplete, or inaccurate. During this presentation, Andrew will present strategies for developing mediated schemas to untangle messy data. These data integration strategies represent best practices for incorporating data from multiple systems with differing data models (i.e., relational, dimensional, and key-value data sources) into a polyglot data system. This presentation will describe how diverse data sources can be integrated via schema alignment, record linkage, and data fusion to produce fast, flexible data structures that act as the foundation for analytical reporting.
Bio  Andrew Harrison is an Assistant Professor of Information Systems in the Lindner School of Business at the University of Cincinnati. His research interests include consumer fraud, deception, security systems, privacy, media capabilities, and virtual worlds. 
Speaker 1: 12:05 -12:45 PM
Michael Cavaretta
Senior Manager, Manufacturing Analytics, Global Data, Insights, and Analytics
Ford Motor Company
Manufacturing Analytics at Ford Motor Company
Abstract:  Manufacturing Analytics at Ford Motor Company - In existence for over 100 years, Ford considers itself primarily a manufacturing company. But, manufacturing has changed significantly over the years. Take Industry 4.0. It is the evolution of production from mechanization, mass production, automation to the Smart Factory and is composed of new technologies like edge computing, the Industrial Internet of Things and Artificial Intelligence. Industry 4.0 promises to make remake manufacturing. This talk will touch on how Ford's investments in Industry 4.0 through a sample of use-cases.
Bio: Michael Cavaretta is an Analytics Executive at Ford, having had multiple roles in Global, Insights, Data and Analytics (GDIA). Since joining in 2015, he's worked in connected vehicles, analytics infrastructure, customer data and manufacturing and the Industrial Internet of Things. In addition to leading analytics teams, he has managed large IT projects of $40M / year with 100+ direct reports. Before joining GDIA, he spent over 15 years applying data analytics to business problems as part of Research and Advanced Engineering. While there, he led multiple analytic projects across all areas of Ford Motor Company, including sales and marketing, warranty and quality, manufacturing, and HR, saving the company hundreds of millions of dollars. Michael received his Ph.D. in Computer Science with a focus on Artificial Intelligence and Machine Learning in 1995.  
NO VIDEO AVAILABLE FOR MICHAEL CAVARETTA'S PRESENTATION
Speaker 2: 12:50 - 1:30 PM
Mandy Humbert
Sr. Director of Engineering and Data Science
Schneider  
Treating Data like an Asset to improve business information flow
Abstract:  Have you ever shown up to a meeting with a set of metrics that contradict the same metrics someone else has brought?  Have you ever heard your company say that they overwrite data, or delete data after a few years or months?  Is your data poorly defined or undefined?  How do we convince Executive Management that Data is an Asset and we need to protect it as we would any other company asset?

Bio: Mandy Humbert is the Sr. Director of Engineering and Data Science at Schneider in Green Bay, WI. In her current role, she focuses on delivering visionary leadership, people engagement and development, and strategic planning. Mandy has built a COE in Data Visualization to drive a trusted source of Enterprise information for tactical and strategic decision making. She also has created and launched a Data Governance program that systemized the implementation of new processes and ensured full penetration into the data value chain. She is an accomplished leader in Analytics and Data Science with a passion for building diverse teams and partnerships. When not working, Mandy enjoys reading and spending time with her four children and two dogs.
Technical Talk: 1:40 - 2:20 PM
Spencer Baucke
Principal Consultant, Data Viz Lead – Power BI
Tessellation
Tableau & Power BI: Find the tool that's right for you
Abstract: Big Data was the buzz word in 2015, now Tableau v Power BI is the latest craze in BI. Certified in both, Spencer walks through his take on deploying both at enterprise and some tips on choosing which tool is right for you and your organization.  
Bio:  Spencer is passionate about enabling organizations to leverage their data through data visualization, most notably Power BI and Tableau. Spencer is a former Tableau Public Featured Author, 14x Tableau Pubic Viz of the Day winner, and co-founder of the Tableau community initiative #SportsVizSunday. Spencer has also been a speaker at TC18 in New Orleans, TCE19 in Berlin, and TC19 in Las Vegas. In addition to Tableau, Spencer enjoys leveraging data and analytics in Power BI. Spencer is DA-100 exam certified, co-founder of #WorkoutWednesday Power BI, and has enabled organizations to develop, share, and utilize Power BI reports across their enterprise.
Analytics Summit 2021: Session 3 - June 8
Speaker 1: 12:05 -12:45 PM
Cynthia Rudin
Professor of Computer Science
Duke University
Why use Interpretable Machine Learning? Because Predicting Manhole Fires and Brain Seizures is More Difficult Without It
Abstract: With widespread use of machine learning, there have been serious societal consequences from using black box models for high-stakes decisions, including flawed bail and parole decisions in criminal justice. Explanations for black box models are not reliable, and can be misleading. If we use interpretable machine learning models, they come with their own explanations, which are faithful to what the model actually computes. In this talk, I will introduce interpretable machine learning, and discuss several important applications to energy grid reliability, healthcare, and criminal justice.
Bio: Cynthia Rudin is a professor of computer science, electrical and computer engineering, and statistical science at Duke University, and directs the Prediction Analysis Lab, whose main focus is in interpretable machine learning. She is also an associate director of the Statistical and Applied Mathematical Sciences Institute (SAMSI). Previously, Prof. Rudin held positions at MIT, Columbia, and NYU. She holds an undergraduate degree from the University at Buffalo, and a PhD from Princeton University. She is a three-time winner of the INFORMS Innovative Applications in Analytics Award, was named as one of the "Top 40 Under 40" by Poets and Quants in 2015, and was named by Businessinsider.com as one of the 12 most impressive professors at MIT in 2015. She is past chair of both the INFORMS Data Mining Section and the Statistical Learning and Data Science section of the American Statistical Association. She has also served on committees for DARPA, the National Institute of Justice, and AAAI. She has served on three committees for the National Academies of Sciences, Engineering and Medicine, including the Committee on Applied and Theoretical Statistics, the Committee on Law and Justice, and the Committee on Analytic Research Foundations for the Next-Generation Electric Grid. She is a fellow of the American Statistical Association and a fellow of the Institute of Mathematical Statistics. She is a Thomas Langford Lecturer at Duke University during the 2019-2020 academic year.
Speaker 2: 12:50 - 1:30 PM
Alexander Antony
Sr. Data Scientist
GE Aviation
Forecasting the Aviation Market Recovery
Abstract: COVID-19 has had a significant impact on many industries, but few have been as heavily disrupted as commercial aviation. When combined with government travel restrictions, the spread of the disease has led to a historic decline in air travel around the world. This talk will discuss how advanced forecasting methods, such as Bayesian Structural Time Series models, can be leveraged to shed light on the aviation market recovery in the aftermath of COVID-19.
Bio: Alex Antony is a Senior Data Scientist at GE Aviation in Cincinnati, OH. Prior to joining GE, Alex worked as a data scientist on Wright-Patterson Air Force Base and as a statistical consultant. Alex holds both a MS in Applied Statistics and a PhD in Political Science with a focus on Quantitative Methodology from Indiana University.
Technical Talk: 1:40 - 2:20 PM
Brad Boehmke
Director of Data Science
84.51°
Scaling Productivity with an Inner Source Ecosystem
Abstract:  The open source ecosystem provides many resources that most organizations leverage and benefit from. The beauty of this ecosystem is that many packages and tools exist to make you more effective and efficient; plus, you have the opportunity to contribute back to the source code. At 84.51° we have started to create our own inner source ecosystem of internal packages and tools to help make our 250+ data scientists more productive. This talk will discuss how we did it, the benefits and challenges, along with providing tips that you can take back to your organization to start building similar capabilities.
Bio: Brad Boehmke, PhD, is the Director of Data Science at 84.51°, Professor at three universities, author of the Data Wrangling and Hands-On Machine Learning with R books, and creator of multiple R open source packages and data science short courses. Brad's team focuses on developing algorithmic processes, solutions, and tools that enable 84.51° and its analysts to efficiently extract insights from data and provide solution alternatives to decision-makers. He has a wide analytic skill set covering descriptive, predictive, and prescriptive analytic capabilities applied across multiple domains including retail, healthcare, cyber intelligence, finance, Department of Defense, and aerospace. Summary of his works is available online at bradleyboehmke.github.io.
Replace this text component with your accordion's content.