Honoring our past as we look towards

the future
Help us empower future business problem solvers
The Cincinnati Business Achievement Awards (CBAAs), presented by the University of Cincinnati Carl H. Lindner College of Business and Lindner Alumni Council, is an annual celebration typically held the first week of March that recognizes achievement in business as well as service to local and global community.
While we wish we could all be together for this joyous event, marking this occasion a little differently this year is something to be grateful for.
For our 2021 CBAAs, we will reflect on the past 35 years of celebrating Cincinnati's finest and shaping the future of business education.
Video link: https://www.youtube.com/embed/0R53Fq9XdHI?rel=0
Education is facing challenges unlike any we've seen in our lifetime. In the midst of accelerating change, we can't just anticipate the future — we have to shape its course. We hope you will help us achieve our goal of raising $65,000 in scholarship support throughout the month of March.
Your support will directly impact the Lindner student experience through scholarship and financial assistance at both the undergraduate and graduate levels.
Follow Along on Social Media
In addition to our fundraising efforts, we will take this opportunity to celebrate former honorees and showcase the impact from the past 35 years. We invite you to follow us on Lindner social media to view a variety of content that will be released throughout the month.
Thanks to our dedicated sponsors and partners who have helped the college raise more than $2 million through sponsorship and ticket sales over the past 35 years. These funds have helped directly support student scholarship and programming, such as:
Making attendance at professional conferences possible.

Helping student organizations host events like our Lindner Women in Business Empowerment Day.

Minimizing the cost to participate in study abroad for first-generation students.
2021 Premier Sponsor ($15,000)
Great American Insurance Group
Johnson Investment Counsel, Inc.
2021 Gold Sponsor ($5,000)
Ameritas
Cincinnati Bell
Western & Southern
2021 Silver Sponsor ($3,500)
EY
2021 1906 Sponsor ($2,500)
The Cincinnati Insurance Company
The David J. Joseph Company
Deloitte
Elliott Management Group

$2+ Million
raised in the past 35 years for student scholarship and programming
The University of Cincinnati has a rich 200-year legacy of innovation and impact. The CBAAs are just one way our college honors those who embody UC's strategic direction, Next Lives Here, while setting the stage for current and future students — the next generation of business leaders — to achieve success. 
The CBAAs is the longest-standing event in our city that recognizes both professional achievement and service to community. The event itself has evolved quite a bit over the years, with different venues, different themes, different hosts.
Since 1985, we have honored more than 120 alumni, supporters, community partners and students.
Past award winners have come from blue chip companies, startups, government, and non-profits. They've been brand managers, accountants, real estate developers, investors, entrepreneurs. They've been from the C-suite and the "ones to watch" as they rose to prominence. They represent a wide range of backgrounds, professional experiences, challenges, passions. And they serve as inspiration for us and for generations to come.

The highest honor bestowed at the Lindner College of Business' annual CBAAs, the Carl H. Lindner Award for Outstanding Business Achievement recognizes a Lindner College of Business graduate who best exemplifies an entrepreneurial spirit with commitment to business, community and the highest level of success within one's profession.
Honoring commitment to the college, UC and the community, the Distinguished Service Awardees have given generously of their time, talent or treasure, directly impacting the Lindner student experience and helping students succeed beyond graduation. Past award recipients have served as long-term mentors for student programs and organizations, or have gone beyond funding a scholarship and led initiatives at the college.
This award recognizes a business or organization that supports the college and local communities. Past award winners have been recognized for their long history of participating in college networking events or career fairs, or providing career opportunities for students and graduates. Others have encouraged employees to serve as guest speakers in business classes or mentor students.
The Lindner College of Business weaves four values throughout the student experience: Professionalism, Academics, Character and Engagement (PACE). The college believes that helping students cultivate these values along with their knowledge and skills will help them grow into the professionals employers want to hire and the leaders others want to follow.
This award recognizes alumni who practice and set the PACE for success in both their professional and personal lives.
As one of the oldest scholarships at UC that bears the Lindner name, the Carl H. Lindner Outstanding Junior Scholarship recognizes an undergraduate student who best exemplifies the energy, commitment and creativity of Carl H. Lindner—shown through their work in the classroom, and their commitment and contribution to UC.
This award and scholarship bears the name of prominent Cincinnati lawyer William (Bill) Keating, Jr., and honors his longtime service as president of the Lindner Business Advisory Council. When Keating passed away in 2017, Dave Szymanski, former dean of the Lindner College of Business, established the Heart of Bill Keating, Jr. award to recognize a junior business student for their outstanding service to the university and community.
"If you knew my dad, this was his life's purpose: To make his community a better place for the next generation," said Liz Keating, daughter of Bill Keating, Jr., during her remarks presenting the award at the 34th annual CBAAs in March 2019.

120+
Alumni, supporters, community partners and students recognized in the past 35 years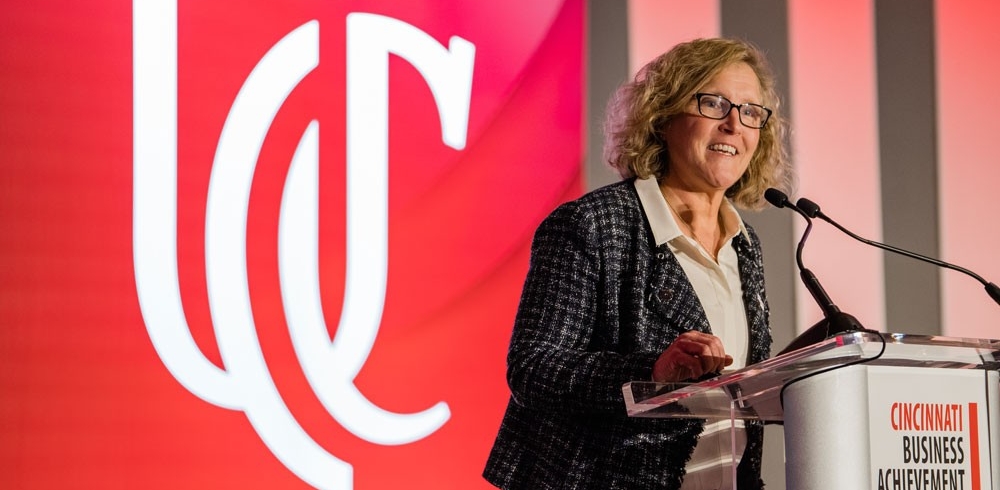 "The CBAAs puts exceptional leadership on display, but it also has a deeper purpose: empowering business problem solvers."
- Marianne W. Lewis, PhD -
Dean and Professor of Management, Lindner College of Business
This year, we find ourselves in a time of unprecedented change and disruption—challenging our students, our employer partners, our world.
Education is certainly evolving in response to these challenges, yet it has a vital role in developing the talent, closing the competency gaps, and generating the knowledge needed to address our world's challenges head-on.
Help us empower business problem solvers. Create new opportunities. Shape new futures. Your contributions throughout the month of March will directly shape the student experience through scholarships and financial aid. This is our top priority this year, as scholarship will help make a business education possible for a generation that has experienced one macro disruption after another in such a short period of time.