Annual Dinner Award Winners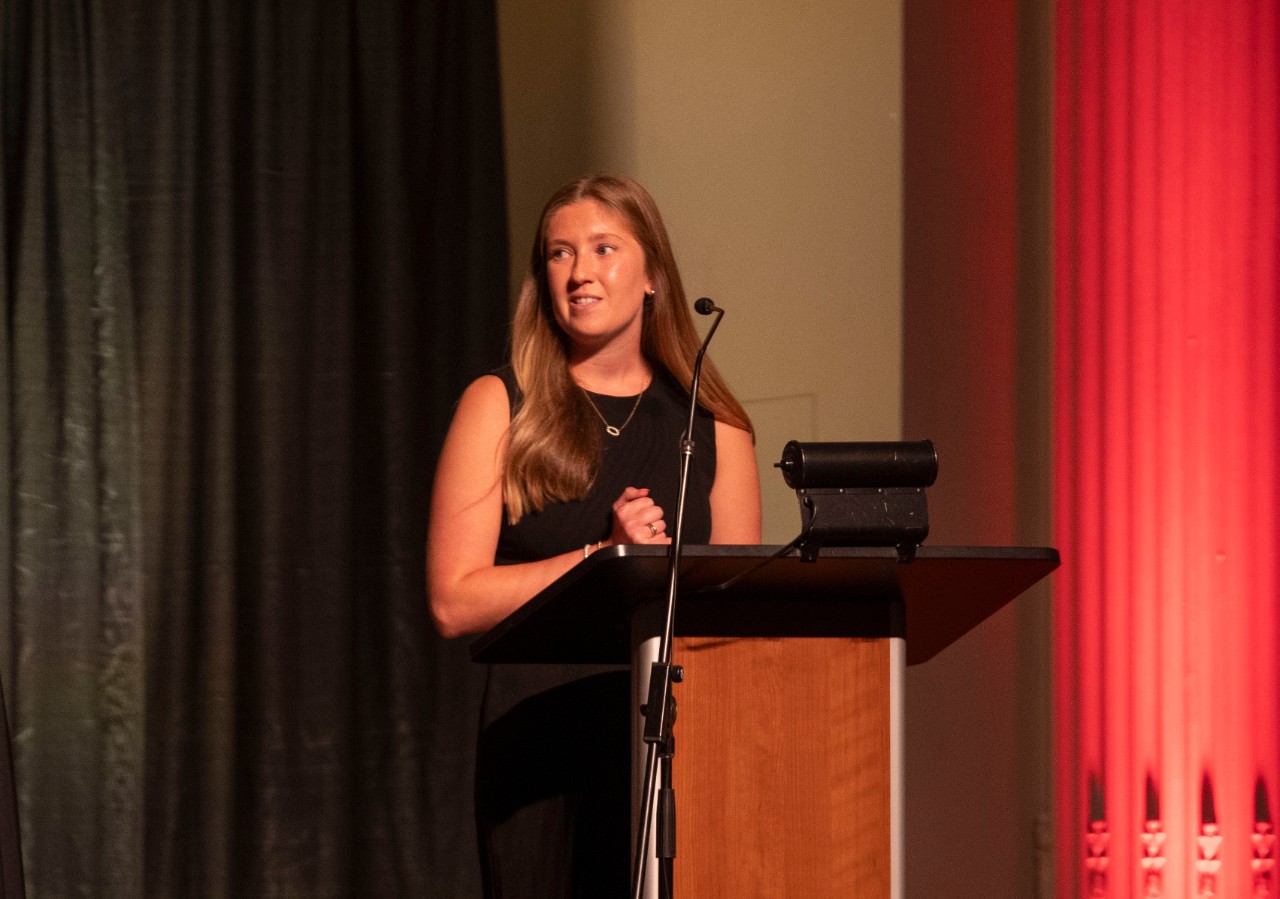 Distinguished Real Estate Service Award
Each year, the UC Real Estate Program recognizes an individual for making a lasting impression on our region. These distinguished individuals are recognized not only for their years of success in our industry, but also for their work in giving back to the community and efforts to change our region for the better.
2023: Laura Brunner, President/ CEO, Port of Greater Cincinnati Development Authority
2022: Rusty Myers, JLL
2019: Jerry Atkins, Bellwether Enterprise

2018: Tom Powers, Executive Managing Director, Cushman & Wakefield
2017: Dan Neyer, President and CEO, Neyer Properties
2016: Louis Guttman, CEO, Hills Properties
2015: Mike Schueler, President, Schueler Group
2014: Kay Geiger, President, PNC Bank-Greater Cincinnati/N. Kentucky
2013: Murray Sinclaire, Jr., President & CEO & Owner, Ross, Sinclaire & Associates
2012: Tom Williams, President and CEO, North American Properties
2011: Jeanne Schroer, Executive Director, Catalytic Development Fund, Northern Kentucky
2010: Mario San Marco, President, Eagle Realty Group
2009: Jim Hodge, Vice President of Real Estate, Kroger Company
2008: Jeffrey R. Anderson, Founder & President, Jeffrey R. Anderson Real Estate, Inc.
2006: Henry Fischer, Chief Executive Officer, Fischer Homes
2005: Harry Fath, Owner, Fath Properties
2004: The partners of Miller-Valentine Group
2003: David Tipton, Chairman, Chief Executive Officer, Tipton Interests
2002: John Frank, Jr., Chairman, Colliers Turley Martin Tucker
2001: James Wuenker, Vice President of Economic Development, Greater Cincinnati Chamber of Commerce (retired)
2000: Thomas H. Humes, President of Great Traditions Land and Development Company
1999: Norm Miller, Director of Real Estate Program, University of Cincinnati
1998: Arn Bortz, Managing Partner, Towne Properties
1997: William Butler, President and CEO, Corporex Companies Inc.
1996: Manuel D. Mayerson, Founder, The Mayerson Co.
1995: Ralph A. Drees, CEO and Board Chairman, The Drees Co.
1994: Paul Hemmer Sr., Chairman, Paul Hemmer Construction Co.
1993: Don Neyer, former President, Al Neyer Inc.
1992: West Shell Jr., former Board Chairman, West Shell Inc.
1991: Neil Bortz, Principal, Towne Properties
Student of the Year Award
This award is presented to the student at our annual banquet program at the end of the academic year. The award is based on academic success, leadership and involvement in student, community and professional activities. All are undergrads BBAs unless noted as MBAs.
2023: Kalynne Schuermann and Jack Walsh
2022: Nolan Merten
2021: Louis Acra
2020: Victoria Bartlett
2019: Zac Moore
2018: Claire Benken
2017: Zachary Smith
2016: Brandon Sehlhorst
2015: Nick Wessels
2014: Emily van Treeck
2013: Kyle Lohbeck and Avis Devine (Outstanding Graduate Student)
2012: Michael Arnovitz
2011: Kurt Meadows
2010: Paul DiGennarro
2009: Gregg Pancero
2008: Leslie Schuler
2007: Daniel Sutton & Tapiwa Nkata
2006: Jon Jasper
2005: Jeff Chamot
2004: Marc Sebens & Stefanie Smith
2003: Ryan Ertel & Traci Collins
2002: Rachel Beran, Denney Keegan, and Bill Kinnaird (MBA)
2001: Dale Stigamier, Ameer McCall, and Carrie Williamson
2000: Doug Dalton and Amy Tyrrell (MBA)
1999: Tristan Tams
1998: Rachel L. Cohen
1997: Joann Hudzick
1996: David E. Bacher
1995: Michael H. Copfer
1994: Tonya L. Wyatt
1993: Emil M. Guillia
1992: Brian P. Rettig
1991: Valerie A. Seebohm
1990: Jennifer A. Hartmann
1989: John Stevens
1988: Michael Delev