Real Estate Center and Program Dinner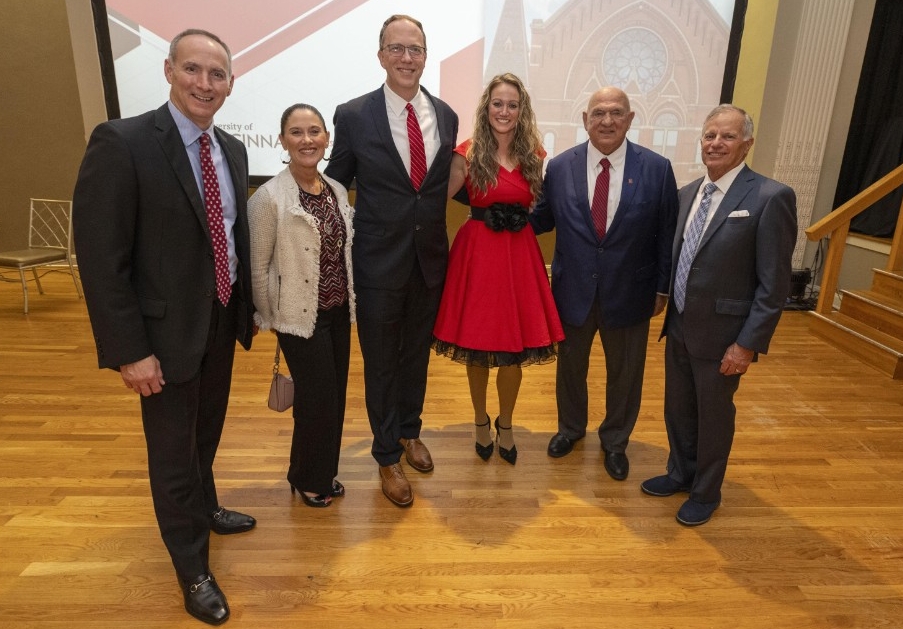 32nd Annual Real Estate Center & Program Dinner
Wednesday, June 14, 2023

Cincinnati Music Hall
1241 Elm St. Cincinnati, OH 45202
Cocktail Hour begins at 4:00 PM
Dinner & Program to Follow

Distinguished Real Estate Service Award 
Each year the Greater Cincinnati Real Estate community looks to his/her peers in the industry to bestow the University of Cincinnati Distinguished Real Estate Service Award. Each year the community responds, choosing a professional who best exemplifies an entrepreneurial spirit and concern for their community.
2023 Award Recipient:
Laura Brunner
President & CEO
The Port
Laura Brunner is President and Chief Executive Officer of The Port of Greater Cincinnati Development Authority (The Port), an economic development agency based in Cincinnati, Ohio. For more than a decade, Laura has led The Port with her impassioned efforts to fix broken real estate in order to reduce wealth disparities, increase homeownership and grow manufacturing jobs.
Throughout her career, Brunner has consistently challenged the status quo and leaned into risk. When at developer Al. Neyer, the opportunity arose to transform the Vernon Manor into offices. Laura saw an opportunity for minority investors to own a majority interest in the project. She was successful in making that a reality, and now over 700 employees of Cincinnati Children's Hospital work in the redeveloped hotel.
Brunner gained national recognition in 2022 when she led the unprecedented effort to acquire 194 single-family homes from an out-of-town investor to keep the American dream of home ownership alive for many Cincinnatians. She also blazed new trails in sustainable investing when The Port issued $11 million in social impact bonds for the creation of advanced manufacturing jobs.
As a quasi-governmental public agency, The Port is uniquely able to issue debt and invest in real estate, and Laura acts decisively in leveraging these tools to maximize The Port's impact while tackling the most complex challenges in Hamilton County.
Laura earned a bachelor's degree from Indiana University, spent 25 years in public accounting and management consulting, and more than a decade in the commercial real estate industry. She is the recipient of dozens of awards, including Cincinnati Enquirer Woman of the Year and the NAACP President's Award. She has also served on many arts and social services boards, including as President of the Cincinnati Ballet and the Dan Beard Council of the Boy Scouts of America. Follow Laura on social media on Twitter and LinkedIn.
About The Port:
Founded in 2001, The Port of Greater Cincinnati Development Authority is a public, mission-focused, quasi-governmental agency dedicated to fixing broken real estate for the benefit of everyone in Hamilton County, Ohio. In partnership with the City of Cincinnati and Hamilton County, The Port stimulates economic growth by redeveloping manufacturing and residential communities to build the foundation of job creation and viable communities where all residents can experience economic prosperity. For more information on The Port, visit http://www.cincinnatiport.org.
Kalynne Schuermann
Kalynne is a 2023 graduate of the University of Cincinnati having earned a triple-major in Real Estate, Operations Management, and Finance, while maintaining a perfect GPA. During her time at UC, Kalynne was a member of both the Lindner Honors-PLUS and University Honors programs and enjoyed being involved in numerous student organizations across campus, particularly UCREA. In 2022, Kalynne was named a CREW (Commercial Real Estate Women) Network Foundation Scholar and received the Neyer Properties Scholarship Award. Kalynne's undergraduate academic experience was complemented with the opportunity to work for Freddie Mac as a Multifamily Production and Sales Intern and The David J. Joseph Company as a Domestic Logistics Intern. Following graduation, Kalynne will be joining PNC Bank as a member of their Real Estate Banking Development Program, where she will be able to utilize the knowledge that she gained throughout her undergraduate journey at the University of Cincinnati.
Jack Walsh
Jack will be graduating from the University of Cincinnati in December of 2023 with a double major in Real Estate and Finance. He has worked the entirety of college to help pay for school while maintaining a GPA of a 3.76. At UC, he has been very involved in various organizations, including: SCNO (Students Consulting for Nonprofit organizations, the Pi Kappa Alpha Fraternity (PIKE), and most importantly UCREA. He served as the Vice President for SCNO, professional development chair for PIKE, and the President of UCREA. His vision for UCREA became reality this past year as the organization boosted membership and involvement and held 15 student led events with local real estate companies. Jack has co-op'ed at 4 different real estate firms while at UC, including Eagle Realty Group, Cushman & Wakefield, Zipfel Capital, and the University of Cincinnati Real Estate office. This Summer, Jack will have his final co-op with PNC Bank, working in their Chicago office as a member of their Real Estate Banking office, where he will bring what he has learned in the classroom and professional experiences to assist their team. In his free time, Jack is an avid fisherman and golfer, and enjoys hanging out with friends and family.
Includes:
One banquet table with preferential seating (10 seats)

Twenty complimentary drink tickets



Prominent display of your company logo on all marketing materials (banquet ads, event programs, sponsor boards, invitation)
Tax deductible portion is $4,480.
Bearcat Sponsor $2500
Includes:
Half banquet table with preferential seating (5 seats)

Ten complimentary drink tickets



Prominent display of your company logo on all marketing materials (banquet ads, event programs, sponsor boards, invitation)
Tax deductible portion is $2,240
Individual Sponsor $1250

Includes:   
Two tickets to dinner
Four complimentary drink tickets

Prominent display of your company logo on all marketing materials (banquet ads, event programs, sponsor boards, invitation)



Tax deductible portion is $1,146
Thanks to our 2023 Dinner Sponsors
The Real Estate Center wishes to thank Brandy Del Favero, our 2023 Real Estate Dinner Chair, for help with coordinating this year's event and for her ongoing service to the UC Real Estate Center.
Brandy Del Favero
Director of Development
3CDC
As Development Director for 3CDC, Brandy oversees various development projects, including project planning, financing, and construction management. Her team focuses on Civic Space redevelopment within Over-the-Rhine and the Central Business District. She is currently managing the redevelopment of the Findlay Community Center, the Ziegler Park expansion, and several challenging streetscape projects.  Brandy enjoys working on these exciting, placemaking projects that benefit the community by bringing underutilized spaces back to life.  She also recently took on the oversight responsibility for 3CDC's fast-paced commercial buildout program and is working toward streamlining the design and buildout process for 3CDC tenants moving into new spaces in OTR and CBD, which aligns well with Brandy's Construction Management background.

Thanks to our 2023 Annual Program Supporters
The Real Estate Center thanks our generous corporate partners, for providing financial support, sharing valuable input and expertise, and acting as global ambassadors for the Center and Program.