Real Estate Center and Program Dinner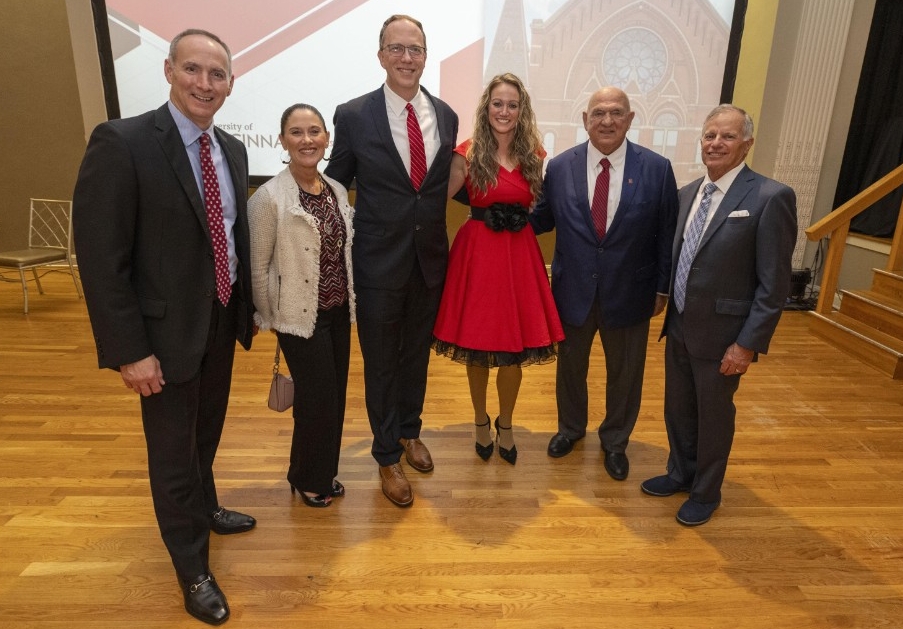 The 31st Annual Real Estate Center & Program Dinner was held on Wednesday, June 1, 2022 at the Hyatt Regency Cincinnati. 

Distinguished Real Estate Service Award 
Each year the Greater Cincinnati Real Estate community looks to his/her peers in the industry to bestow the University of Cincinnati Distinguished Real Estate Service Award. Each year the community responds, choosing a professional who best exemplifies an entrepreneurial spirit and concern for their community.
2022 Award Recipient:
Rusty Myers
Managing Director, JLL
Rusty has 34 years of experience in the real estate industry; as Executive Vice President of JLL, and previously with Cincinnati Capital Properties, Tipton Associates and The Staubach Company. 
His areas of focus and expertise at JLL include tenant representation and agency leasing for office clients. He also provides acquisition, disposition and development services.
Notable projects include The Tower at the Kenwood Collection, Redstone of Kenwood, Linden Pointe on the Lateral, Pictoria Tower, The Wards Corner Business Center, Twin Lakes of Montgomery, and Ridgewood Corporate Center. Representative tenant clients include Omnicare, Citicorp Credit Services, Barclays, Harris Corporation, Tata Consultancy Services, Liberty Mutual Insurance / Indiana Insurance and First Financial Bank. 
Rusty holds a bachelor's degree in finance from the University of Cincinnati and a Masters of Management degree from Northwestern University. He is a Trustee of the UC Foundation and past President of The UC Alumni Association, and has supported the UC Real Estate Program on the Board of Executive Advisors and as a past Chairman of the Real Estate Advisory Counsel and Real Estate Roundtable. Rusty was honored as the 2018 University of Cincinnati Distinguished Service Award recipient and as NAIOP's Broker of the Year in 2008.
Real Estate Student of the Year
Nolan is a 2022 graduate of the Lindner College of Business with a focus on real estate and finance. His passion for commercial real estate presented him with the opportunity to serve as the 2021-22 President of the UC Real Estate Association. Nolan was involved on campus with the Lindner Student Association, Pi Kappa Alpha, Cincy Snowcats and UC Fishing Club. While attending UC, Nolan worked at Tappan Properties, Marcus & Millichap and Paul Hemmer Company. During the pandemic he created Aeroten LLC where he created marketing videos for commercial real estate properties. Nolan's education, leadership, service, campus involvement and work experience assisted him in receiving scholarships including the Dan Neyer Scholarship, JB Selonick Real Estate Scholarship, SIOR Scholarship, Paul Hemmer Scholarship, William Nester Scholarship and Reach & Teach Mentor Scholarship. Upon graduation Nolan transitioned into full time work at Paul Hemmer Company as a Development Analyst along with fulfilling property management duties.

Thanks to our 2022 Dinner Sponsors
Cocktail Reception Sponsor
Dessert Reception Sponsor
The Real Estate Center wishes to thank Jessica Odenweller, our 2022 Real Estate Dinner Chair, for help with coordinating this year's event and for her ongoing service to the UC Real Estate Center.
Jessica Odenweller
Vice-President of Asset Management and Acquisitions, Equity

As Vice President of Asset Management and Acquisitions, Jessica Odenweller oversees the acquisition process by collaborating with each department within Equity to assure thorough due diligence and effective onboarding to the Equity and EVF portfolio. Through the acquisition process, Jessica creates asset strategies that she and her team manages through the hold period to ensure the performance of the asset leads to value creation and achieving anticipated investor returns. Read more

Thanks to our 2022 Annual Sponsors
The Real Estate Center thanks our generous corporate partners, BEARE members, REEAC board, and Roundtable Supporters for providing support, sharing valuable input and expertise, and acting as global ambassadors for the center and program.