Testimonials & Case Studies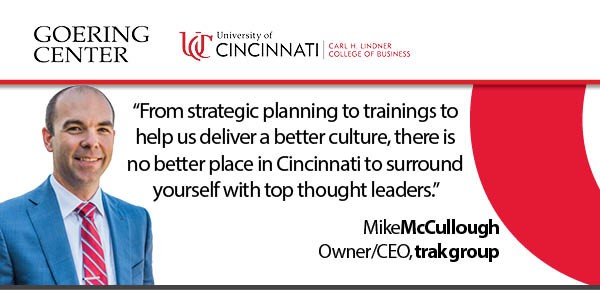 No-one says it better than the individuals who have experienced it. Here you will find input on the Goering Center directly from its members.
Select from the companies below to see how they have been positively impacted by their Goering Center membership and engagement.
Jeff Beckham, Kingsgate Logistics
Amanda Shults, RiskSOURCE Clark-Theders
Ken Lewis, New Riff Distilling
The Next Generation Institute™ is for owners and leaders of family businesses, their successors, and other family members who may or may not work in or have ownership interest in the business. They come to tackle the tough questions together, have difficult conversations, and gain a holistic perspective on the succession journey.
Doug Sayre, Owner-President of Allied Technical Services, didn't want to attend the Next Generation Institute (NGI)®. This is what he said at the end of the last session.
Jerry Hollenkamp, President of Writely Sew, shares his thoughts on the Next Generation Institute in the very last session of 2021. 
In a unique format, seasoned CEOs and presidents work side by side with emerging leaders. This mix of tested experience and fresh perspective energizes and inspires participants while forming strong bonds across family and private businesses in our region.
The Goering Center's Business Boards Institute™ was created by Aileron for CEOs, presidents and owners of family and private businesses who are ready to get to the next level. Our advisory boards are formed to help owners achieve a specific outcome. We help you find the right people, and understand the process, so you can get your board up and running quickly.
Our Peer Roundtables provide a forum for collaborative peer sharing about strategic and tactical business issues, within the larger context of your personal and family concerns. Consider this your very own board of advisors, whose number-one goal is to help you restore balance.
Designed for both family and private businesses, owners, successors and leadership teams will acquire and practice the skills needed to create a performance-enhancing culture, or change the behavior that is contributing to a dysfunctional culture. Together, you will learn how to use new tools such as charters, councils and communication plans, to design an action plan.
Tyler Lang, President & CCO, shares his experience with the Goering Center's Communication and Culture Institute™.
Lauren Johnson-Lake, VP Operations, shares how the Communication and Culture Institute™ benefitted her family and their business.
"The Goering Center is truly a unique and invaluable resource for small and family-owned businesses throughout the Greater Cincinnati region. That said, any business undergoing or contemplating an ownership transition, looking for top-tier leadership training, or just seeking the support and advice of fellow business owners would benefit greatly from membership."
"The Goering Center is an incredible resource for my business and my team. Their institutes, round tables and events are best in class. The relationships I've developed have helped me in more ways than I can convey. I never question my membership renewal - it's essential to my business."
"When you work with Flottman Company you become part of our family, your passion for success becomes ours. Similarly, when you join the Goering Center, you become part of an even bigger family where you receive exponentially more than you could ever hope to give."
"The Goering Center has been invaluable to us. You don't necessarily need to take classes there to get something out of it. I recommend the Goering Center to other businesses. It brings me closer to the person I'm talking with and we have a more honest conversation."
"Going to seminars and programs and getting feedback from others about how they grew and how they handled the economic downturn and managed family business through conflict was encouraging. It is great to hear how people remained successful and became successful in times where it didn't seem like they could do it."
"If not for the Goering Center, we would be smaller. I would not have appreciated the importance of family businesses in the community. Before the Goering Center, I never thought about it. We just did what we were doing every day. Now I have a whole different appreciation for people that have a family business."
"The Goering Center's mission and vision resonate with my own vision for service and stewardship. As an HR professional, I want to be of service to my employees and provide support and guidance to create a positive work environment. Through the Goering Center's efforts, any small or private family business can impact our local community, retain top talent in our area, and elevate economic growth in the Greater Cincinnati area."
"The preparation we received at NGI alerted us early to issues we would face and provided solutions that helped make our succession planning more effective."
"Through our Goering Center involvement, we were positively influenced by the many stories and specific examples of other family businesses whose succession and succession plans were either supported or hampered by their family business managament."
"The Goering Center offerings have been really life changing for us as small business owners. My wife and I established a Board of Advisors five years ago through Goering and our company has been transformed in the process. At their core are a group of wise and generous people that gently challenged my assumptions and inspired our growth. This is powerful medicine!"
"When you couple my son Louis' education at age 28 - his MBA and the knowledge gained from the Goering Center's Leadership Development Institute - it makes him a better leader. He is going to be able to do things I was not able to do or didn't do because I was not armed with that education."
"No man is an island, but sometimes one feels that way. I have met other CEOs who have been able to share stories about challenges they faced in their family business and how they overcame them."
Member Industry: Manufacturing & Technology
What they were looking for: Professional development resources and tools for newly named president 
Why the Goering Center: Focus on private and family-owned business and the Superior ROI
How have they engaged:
Member Alignment Profile™ (MAP)
Peer Roundtable
Leadership Development Institute™
Webinars & In-Person Programs
Member Industry: Manufacturing
What they were looking for: Leadership development resources
Why the Goering Center: Focus on private business and professional development skills
How they have engaged: 
Member Alignment Profile™ (MAP)

Peer Roundtable

Leadership Development Institute™

Communication & Culture Institute
Virtual and In-Person Programs