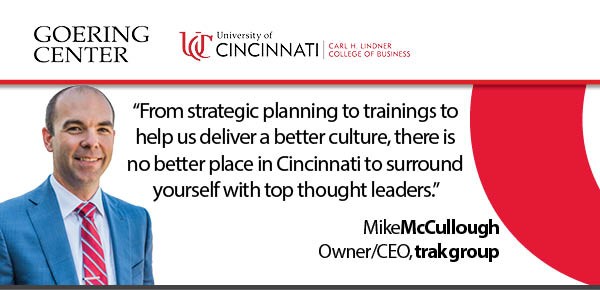 No-one says it better than the individuals who have experienced it. Here you will find input on the Goering Center directly from its members.
Select from the companies below to see how they have been positively impacted by their Goering Center membership and engagement.
Video link: https://www.youtube.com/embed/NqTbmy3U8pU?rel=0
Video link: https://www.youtube.com/embed/mmPK1LrXIGU?rel=0
Video link: https://www.youtube.com/embed/SmWKFKtdQC0?rel=0
Video link: https://www.youtube.com/embed/q3HRppujfmg?rel=0
Video link: https://www.youtube.com/embed/erVKluc-QUs?rel=0
Rich Graeter of Graeter's Ice Cream accepts an award at the 2015 Goering Center Family and Private Business Awards.
Video link: https://www.youtube.com/embed/ztbMIPSe930?rel=0
Video link: https://www.youtube.com/embed/uKaaR5lKbrA?rel=0
"The Goering Center is truly a unique and invaluable resource for small and family-owned businesses throughout the Greater Cincinnati region. That said, any business undergoing or contemplating an ownership transition, looking for top-tier leadership training, or just seeking the support and advice of fellow business owners would benefit greatly from membership."
"The Goering Center is an incredible resource for my business and my team. Their institutes, round tables and events are best in class. The relationships I've developed have helped me in more ways than I can convey. I never question my membership renewal - it's essential to my business."
"The Goering Center offerings have been really life changing for us as small business owners. My wife and I established a Board of Advisors five years ago through Goering and our company has been transformed in the process. At their core are a group of wise and generous people that gently challenged my assumptions and inspired our growth. This is powerful medicine!"
"When you work with Flottman Company you become part of our family, your passion for success becomes ours. Similarly, when you join the Goering Center, you become part of an even bigger family where you receive exponentially more than you could ever hope to give."
"Through the Road Map Institute we have improved our communications with each other and the operations for the business. We changed the roles of family members and the business is doing better than ever."
"The Goering Center has been invaluable to us. You don't necessarily need to take classes there to get something out of it. I recommend the Goering Center to other businesses. It brings me closer to the person I'm talking with and we have a more honest conversation."
"If not for the Goering Center, we would be smaller. I would not have appreciated the importance of family businesses in the community. Before the Goering Center, I never thought about it. We just did what we were doing every day. Now I have a whole different appreciation for people that have a family business."
"The Goering Center's mission and vision resonate with my own vision for service and stewardship. As an HR professional, I want to be of service to my employees and provide support and guidance to create a positive work environment. Through the Goering Center's efforts, any small or private family business can impact our local community, retain top talent in our area, and elevate economic growth in the Greater Cincinnati area."