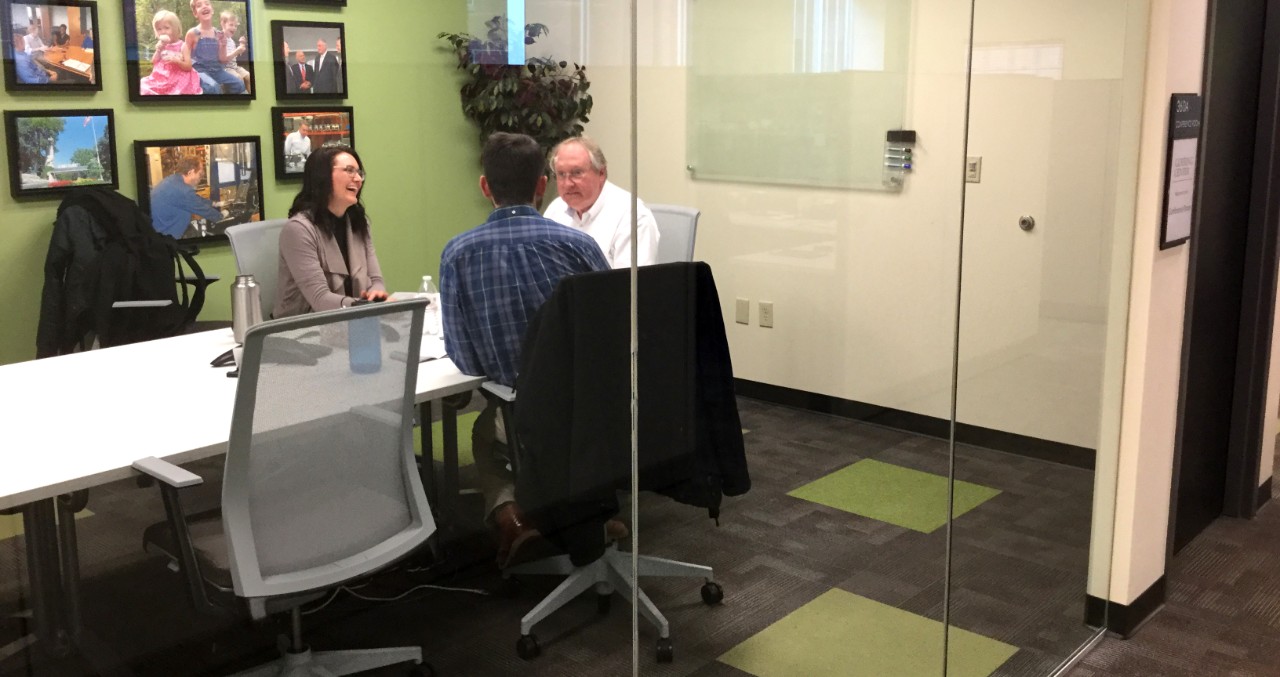 Inclusive Capitalism: this effort can make your success sustainable
By Becky Scheeler, VP of Client Engagement, Centennial, Inc.

Wed, March 13, 2019
Getting and keeping talent is one of every business leader's top initiatives. It is also the breeding ground for many headaches as the struggle is real and constant.  There never seems to be enough workers, available and interested, to get the necessary work done.  Between the lack of people needing a job and the rate at which people move on to new opportunities, it is incredibly hard to adequately staff our organizations.
That is where Inclusive Capitalism comes in.  Inclusive Capitalism focuses on your people so your business can survive and thrive.
What is Inclusive Capitalism?
Inclusive Capitalism is defined as the effort to engage leaders across business, government and civil society in the movement to make capitalism more equitable, sustainable, and inclusive.  This is a shift from a traditional mindset to a new way of thinking about how to treat your employees. Inclusive capitalism makes happy employees.
Proactive leaders are realizing that they can no longer look at short-term financials and a handful of KPIs to measure success.  Inclusive capitalism looks at long-term success which includes their talent base and community — as well as upward trending financials.  It's only when employees are rightly cared for that getting and keeping talent becomes a whole lot easier.
Inclusive Capitalism asks leaders to look beyond traditional methods and consider what makes organizations competitive.  It pushes you to measure the things that make a difference to your people because those are the things that matter most to your bottom line.  Inclusive Capitalism is working towards sustainable success, not flash-in-the-pan success.
Inclusive Capitalism includes noteworthy benefits
When you think long term, you consider what makes your organization attractive to talent.  One big factor is benefits.  Short term, you may feel you can't afford extravagant benefits, but when you look at your turnover rate, you may decide you can't afford not to offer alluring benefits.
What are some things that organizations offer that make their employees motivated and happy?
Flexible schedules
Generous time off — vacation, maternity, paternity
Gym membership
Pet benefits
College tuition reimbursement
Wellness stipends
Community service projects
Recreational opportunities: softball team, company-wide picnic, amusement park discounts
Recognition and celebrations for individual and team accomplishments
Food discounts
Counseling services
Inclusive Capitalism is serious about inclusion
It is probably easy to guess that diversity and inclusion are a large part of Inclusive Capitalism.  Make note, however, that it is the inclusion half that is emphasized.  By itself, diversity doesn't drive results.  The key is to act on the diversity within your organization by making everyone, no matter their background and preference, to feel included.  To make this a reality you must develop an environment that values the fact that we are all similar even more so than we're different.
Part of the diversity comes from finding workers in nontraditional places.  At one time candidates may have been sourced from talent pools with a very similar look and background.  Now hiring managers are realizing that Ivy League schools are not the only place to find great, smart talent.  Depending on your talent needs, your talent pool may include prisons or rehabilitation facilities. Nontraditional talent pools are being tapped into for the benefit of everyone involved.
Inclusive Capitalism is a long-awaited mindset change
At Centennial, we are so excited about the emerging mindset of Inclusive Capitalism. This is exactly the action we need taking place in our organizations, starting with the top leaders. An increased value placed on individuals is the hope of the future.
We are looking for organizations that embrace the philosophies found in Inclusive Capitalism. These organizations are proactive and realize that although the financial gain may not be immediate, the return on investment is far reaching and sustainable.  It's an exciting place to be and we would love to make that happen in organizations around the globe.
The Talent Magnet Institute podcast, powered by Centennial Inc., addresses Inclusive Capitalism and similar subjects. If you find this intriguing, listen in here.
Save your unprotected printers from dangerous printer pranks
When printers around the world began spewing silly messages urging recipients to subscribe to a YouTube channel a few weeks ago, many considered the incident a joke. But while social media users laughed off the prank, trading stories and photos of their home and office equipment's absurd printouts, IT pros came to a chilling realization.
If someone can hack unprotected printers to deliver unsolicited messages, they can also gain unrestricted access to your sensitive data — and an entry point to your entire network.
In other words, the same vulnerabilities pranksters used to control unprotected printers can be exploited by shadier hackers with more nefarious plans. These criminals could cost your company millions in damages and cause massive and lasting destruction across your entire IT environment.
"The risk of causing financial damage, in this case, is as real as it gets," says Bob Reny, EMEA CTO and Principal Engineer of security firm ForeScout, in an article for BBC News. "And all of this because organizations or individuals installed a connected device without really taking the time to audit the implications this has on their existing network security infrastructure."
Luckily, there's still plenty you can do to protect your environment from innocuous pranksters, as well as more vicious cybercriminals lurking in the shadows. Here are five ways you can start to eliminate printer vulnerabilities right now:
1. Audit all connected devices
Are you 100 percent sure every device connected to your network is configured with the proper security checks? Given the sheer number of devices entering your organization each day, that's a tough question to answer.
If you haven't performed a network device audit in a while (or at all), now is the time to do it. Using your preferred network assessment tool, check all connected devices to ensure they're set up with the proper firewall configurations. Also, if you haven't already, consider setting up a separate network for guest use. This way, you don't have to give unauthorized personnel access to your closed, secure network if they need to hop online.
2. Install security patches and updates
Never put off installing software and firmware updates. While this is much easier said than done, procrastinating on updates and patches could lead to more painful headaches down the line. After all, it only takes a moment for an opportunistic hacker to find a vulnerability point and siphon your valuable data.
Make sure your team knows the critical importance of staying on top of patches and updates. Reinforcing this as a habit will only benefit your business in the long run, and you won't end up in the headlines for falling prey to an exploitation of a previously patched security vulnerability.
3. Follow recommended printer security protocols
As an IT pro, you know the importance of having complete visibility into the devices connected to your network. Users, however, may plug in and set up their own equipment without realizing they're exposing the organization to countless dangers. Just one or two unprotected devices could threaten your entire network.
In addition to educating your workforce on the proper protocols when it comes to installing and using devices (like letting IT know immediately if you bring your own device to work), you'll want to make sure all equipment on the network is programmed with the appropriate device security standards. Printers, for example, should follow these basic security settings:
Always set the administrator password
Configure your wireless security options
Review your embedded web server options (if applicable)
Double-check your remote print settings
Enable/disable network options — only enable what your users absolutely need
For a more comprehensive list of recommended printer security settings, click here.
4. Conduct a secure print analysis
Are you sure every printer across your business is adequately protected? Even if you know you and your team follow all printer security protocols and cybersecurity best practices to protect your print environment, it never hurts to double-check, especially with multiple printer pranksters on the loose and wreaking havoc.
This quick (and free) secure print analysis only takes a couple of minutes to fill out and will let you know within minutes how your print security rating compares with 167 other IT managers, and it will provide you a checklist with policy recommendations from the NIST cybersecurity framework. With that in hand, you'll be able to bite back against the scariest of hackers — without breaking a sweat.
5. Choose devices with embedded security features
One of the best ways to protect your environment is to invest in tech that's pre-equipped with the most sophisticated device security features on the market. HP printers, for example, can detect, protect, and self-heal from malware attacks — all on their own. As you upgrade outdated equipment this year, opt for products you can trust. In particular, you'll want to look for devices that come with built-in threat detection and software validation features, so only authorized firmware and software can be installed and executed on the machine. You'll thank yourself later for that extra layer of security.
Printer hacking — even for the sake of delivering seemingly harmless messages or practical jokes — is serious business. Fortunately, for proactive IT leaders like you, there are plenty of tools available to reinforce your print security and protect your organization from pranksters and hardcore cybercriminals alike.