Updates from the President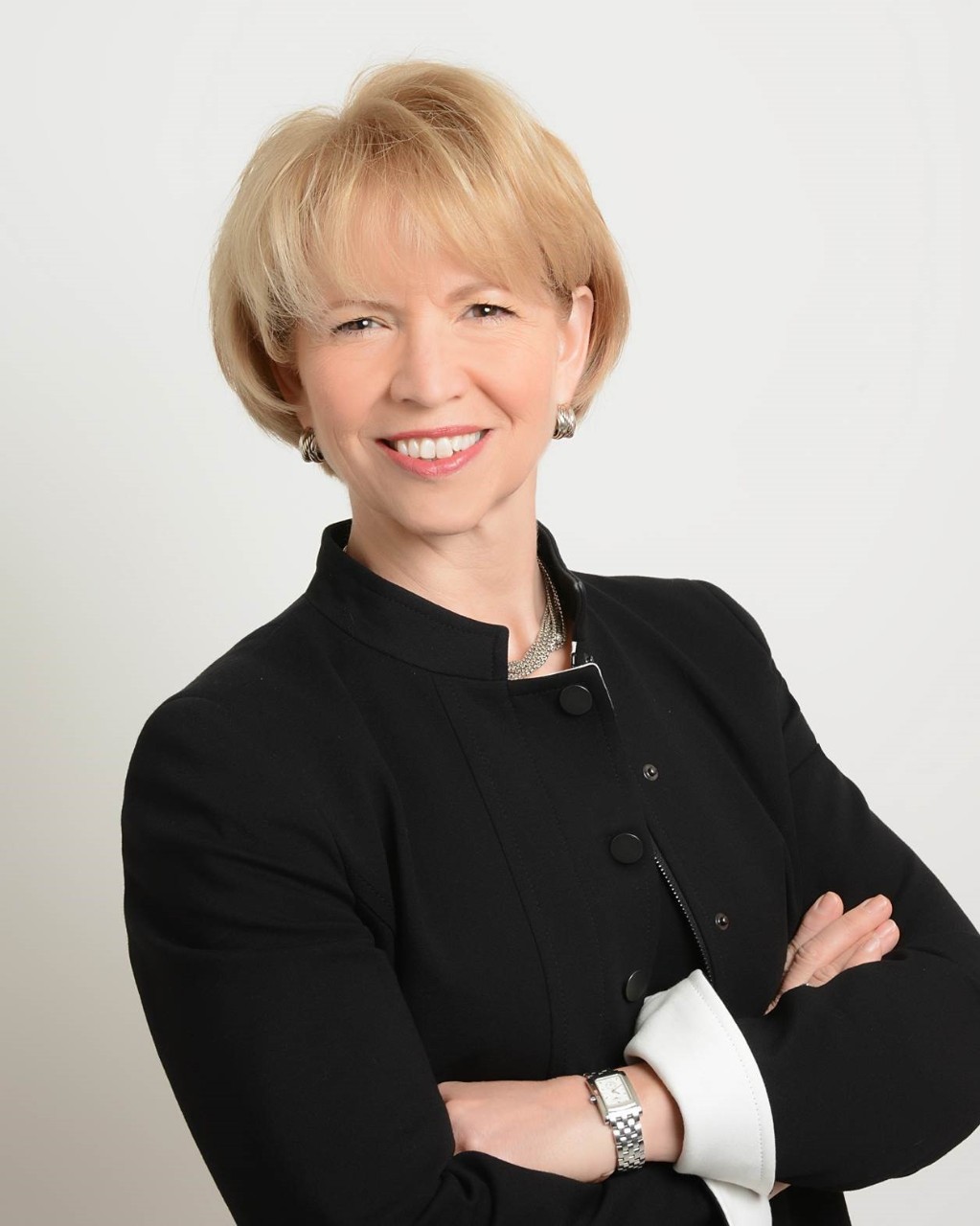 Every quarter, Carol opens the Goering Center's Cincinnati Business Courier supplement with an article detailing her thoughts on current affairs, results achieved, projects undertaken and more. She shares successes and lessons learned, giving readers a breath of optimism and wisdom.
Here below are some of Carol's articles over time.
If someone were to compile a list of the most used words over the past three years, I suspect "uncertainty" would rank near the top. It's a word I've used repeatedly in recent times to describe the state of the world, and the continuing noise, excitement, and confusion we see not just in our country, but globally.
While we continue to experience change in an ever-evolving world that keeps us from knowing what's coming with any strong sense of certainty, one thing that's held true is the power of community to give us comfort and help us make sense of things in troubled times.
I've personally witnessed this power at the Goering Center, where its assembly of Core Members, Associate Members, Corporate Partners, subject matter experts, professional service providers, thought leaders, and volunteers provide community, connection, and knowledge – serving as tremendous resources and sharing support with one another in these uncertain times. That's something to celebrate.
So are those businesses and people who continue to find ways to thrive in uncertain times. I invite you to join us in recognizing and celebrating good work and talented people at the 24th Annual Family and Private Business Awards, taking place September 11 at the Hard Rock Casino Cincinnati.
This year's theme is "Successful Difference." Nominations are open now for businesses and rising stars in your organizations, who differentiated themselves to achieve success. I encourage you to share details on how your business focuses on its competitive advantages to thrive. We look forward to reading your unique stories and experiences. Completed applications are due June 23 – you can find all the details at goering.uc.edu/awards. 
Don't forget to keep an eye on our calendar as well, so you stay up to date with the stellar programs we're offering and maximize the benefits of being or becoming a member of the Goering Center. Our Becoming a Best Place to Work series, a ectionately known as "Scrappy Culture," which launched in 2022 to rave reviews from its participants, will kick off later this year and is open for registration. Six half-day sessions spread over several months are designed to provide teams with the tools and understanding to add impactful culture-building elements to their organizations, from onboarding new employees to engaging and retaining current ones. The ROI can be immediate and significant – it's up to you.
June 8 is our next Luncheon Series – Sustainability for Today & Tomorrow. You will gain insights into how sustainable practices have significant economic benefits for your organization in addition to the obvious environmental and ecological ones. It's a perfect opportunity to connect and learn with your peer community. Our expert panelists will share their insights and success stories, leaving you with advice, ideas, and motivation to reduce your organization's environmental footprint for the benefit of future generations while maintaining or increasing profitability and growth today.
An upcoming multi-day program that will be of interest to many of you is our Pricing Power series, starting in August. Comprised of five virtual 90-minute sessions, you'll walk away armed with the methods, messaging, tools, and confidence you need to negotiate from a position of power and strength – not uncertainty.
A shout-out to board member Ryan Rybolt who, effective July 1, will step down from the Goering Center's Board of Directors after serving two terms. The Goering team is deeply grateful to Ryan for his generosity and years of service to the Center and the Greater Cincinnati business community.
Tara Halpin of Steinhauser, Inc. – a long time member and owner of a multigenerational family business – will take over his seat on the board. We look forward to Tara joining the team and bringing her unique skills and perspectives to the Center.
As current or future members of the Center, we hope to provide continued opportunities to build community, connection, and knowledge, all of which help ground us to bring confidence and positivity even in uncertain times.
As the saying goes, change is the only constant in life, an adage proven beyond a doubt over the last few years. Yet, despite the many challenges we've endured, we've also witnessed time and again those who effectively harness the power of change. These are the people who evolved successfully to build relationships and connection in one of the most difficult environments of our time.
What's their secret? It's what the world needs when everything is in transition: visionary, adaptable leadership.
Are you the kind of leader who embraces change to thrive and grow? If you're not yet, and you believe in the adage that leaders aren't born, they are made – then that's where the Goering Center can help. Registration is now open for the Goering Center's 2023 Leadership Development Institute™ (LDI), which kicks off on March 8. LDI can help you become the kind of leader who not only thrives on change, but also uses it to their advantage. This comprehensive leadership curriculum attracts business owners, CEOs, COOs, directors, vice presidents, general managers, and emerging leaders to work side-by-side to better understand themselves, how to best work with others, build teams, and problem solve to accelerate their performance and that of their organizations in times of change.
Coming up in March, we have Exploring the 2023 Economic Landscape, part of our regular single-day programming. This update, provided by a panel of leading economists, will help us look beyond the headlines to understand what's ahead for businesses, consumers, and the country's overall economic health. Ultimately, while there are certainly lessons we can learn from the past, we as leaders need to look toward the direction we're going – forward. I hope you'll consider how the Goering Center can help you navigate your path forward, whether it's taking part in a leadership course or attending an informative event. I recently saw a post on Instagram that said "Don't look backwards – it's not where we're going." Simple – profound!
If you're interested in what we have to offer, but are not quite ready to commit to membership, the Goering Center offers a complimentary 90-day trial membership. As a trial member, you'll meet with our Membership Director to discuss your business and membership goals. You will take part in the Principles Course, an orientation session in our safe-haven environment, where you will share your goals and concerns and come away with a new sense of purpose and community. You'll also enjoy complimentary admissions to the membership Breakfast Series and membership pricing for Luncheon Series, Multi-Day Programming, and Workshops. To learn more, contact Membership Director David Miller at 513-556-5648 or david. miller@uc.edu.
Until next time.
Focusing on growth activities and investments during a period when the world appears to be struggling and headed into recession may seem counterintuitive, but these times present a real opportunity.

Alan Beaulieu – President of ITR Economics – suggests looking past the headlines to your numbers and relevant leading indicators to see past all the noise. The current environment according to Alan: consumer financial health is good with incomes rising; businesses are profitable and liquidity is high; and the economic situation looks stable.
Certainly, the struggles with attracting and retaining talent and the ongoing supply chain issues have many businesses looking to cut costs as they cross their fingers and hope to ride out the current global malaise. Yet, some business owners are looking past the fear. They are refusing to hibernate and instead are making strategic investments that will have positive outcomes and position them well for when the tides turn again: talent development, setting up advisory boards, and investing in brand awareness are some of these key and timely investments.

The Goering Center's Leadership Development Institute™ (LDI) is a program that gives you and your executive team members the skills you need to perform at your highest level, positioning your business to thrive and grow, now and in the future. Over the course of 10 half-day workshops, you'll work alongside seasoned CEOs, company presidents, and leaders of various levels, functions, and industries to sharpen your skills across multiple leadership disciplines: understanding self, working with others, building teams, and problem solving, to name a few.

Our Business Boards Institute™ (BBI) is available whenever you are ready to advance your business to the next level with the help of carefully selected experts. BBI teaches you how to identify, interview, recruit, and onboard advisory board members who will provide you with expert advice, diverse perspectives, and insight to help achieve company goals.
Goering Center Roundtables – often referred to as your very own personal board of advisors – represents another investment for growth. Our Roundtables are made up of eight to twelve business leaders led by a professional moderator, and provide a confidential and trusted forum for collaborative peer-sharing and learning. Together, you will address strategic and tactical business issues, within the framework of your personal and family needs, and walk away with key insights and ideas to make your world better.

Our BLUEPRINT Business Planning Institute is here to help you develop a concise and actionable business strategy that states your desired market position and has the flexibility to adapt to market changes. An effective business strategy is an invaluable tool that helps your team members understand the big picture goal, how you plan to achieve it, and how they contribute to its success.
As we continue to develop new programs based on the real-life needs of our members, we are pleased to announce the launch of The New Sales Frontier program in January 2023. The New Sales Frontier focuses on how today's sellers need to organize and perform in order to succeed with today's buyer, who is more in control than ever before, which makes selling to them increasingly challenging. We designed this virtual series to help business owners and top sales leaders understand what a sales organization needs to be and do to differentiate the business they serve and become a competitive advantage in the marketplace.
Finally, stay tuned for details on our January luncheon centered around the advantages of fractional C-suites. For example, maybe you can't afford to have a full-time Human Resources leader, but can you really afford to have no HR leadership at all? Learn how fractional C-suites are filling key leadership gaps in businesses on an affordable, part-time basis.
As I noted at the start of this message, some people see headwinds as a reason to stop and brace themselves, while others see them as an opportunity. As you plan for the year ahead, I encourage you to keep moving forward, to plan for success, development, and growth, knowing that you have a steadfast partner in the Goering Center.
In this era of the Great Resignation and the Great Reawakening, it's never been more important for companies to foster a compelling culture to attract and retain talent. There's a quote that says culture is to recruiting and retention what product is to marketing. Just as customers are attracted to a great product, it's abundantly clear that employees are choosing to join companies with a great culture. That's why we are celebrating the power of company culture at the Goering Center 2022 Family and Private Business Awards.
As I noted last quarter, an organization's culture is made up of its shared values, beliefs, goals, and practices. Culture not only sets the tone for everything the company does, but also affects how employees feel about the work they do, where they see the company going, and ultimately how long they stay.
Amid challenging job news globally, it's been heartening to read just how many Greater Cincinnati family and private businesses are getting company culture right in these interesting times.
Thanks to the innovative ways they have maintained and grown vital connections with their employees, the organizations we celebrate this year are not only surviving, but thriving:
Batesville Products, Inc., where transparency and innovation are valued
Baxter Burial Vault Service, where deep caring and charitable giving are paramount
BRG Realty Group, where community with a foundation of caring is the basis for all things
Crescent, where putting people first is paying future dividends
Heaven Hill Brands, where resiliency is key
Kingsgate Logistics, whose founding principles continue to move the business forward
New Republic Architecture, where building a business for people to thrive in is the rule
New Riff Distilling, where treating people right is ingrained in the mission
RiskSOURCE Clark-Theders, where caring is the most important element of culture
trak group, which created a connected community to fuel massive growth
We can all take actionable lessons away from the achievements of our business honorees, as well as JANCOA, our Family Business Hall of Fame Inductee, retiring Goering Center visionary Dr. Sid Barton, our first ever Impact Award Winner, and our 2022 Rising Leader Finalists. John Goering would be proud of the accomplishments and contributions made by all those being honored to help "drive a vibrant economy." The work of John and the Goering Center carries forward.
As this 23rd annual award event comes on the heels of a time of massive change, I hope you'll enjoy the changes we've made to make our celebration more fun and engaging for all of you. We're starting earlier, with our award ceremony up first, so we have time to relax, celebrate, and have fun as a community immediately afterward. We have a great band lined up to entertain you. I hope you'll take the opportunity to stay and mingle with each other and with us. On behalf of everyone at the Goering Center, we look forward to seeing you on Tuesday, September 13th – visit goering.uc.edu/awards to reserve your table or buy your tickets.
One piece of housekeeping before I sign off: For those of you in family businesses who are or may be transitioning to a new generation of leadership, we will present an overview of our Next Generation Institute (NGI)® on September 21st ahead of the new session starting at the end of November. As many of our members will tell you, smart, thoughtful succession planning is as important as culture in setting your family-owned business up for success.

Until next time.
Looking back through my commentaries over the past two years, a word that comes up repeatedly is "challenges". And while as a community, country, and world we are still facing significant challenges that we can't ignore – including supply chain issues, a labor shortage, and inflation – we need to take time to celebrate what's good.
One cause for celebration is the reopening of our region as we've learned to live with COVID-19. Just like the businesses in our community, the Goering Center is open for business, and one of the first things on our agenda is to celebrate our members through our upcoming Family and Private Business Awards (FPBA).
The focus of our awards this year is The Power of Company Culture. Now more than ever, a company's culture matters. An organization's shared values, beliefs, goals, and practices not only set the tone for everything the company does, but also affect how employees feel about the work they do, where they see the company going, and ultimately how long they stay. That's crucial in the era of the Great Resignation and the Great Reawakening. We want to know what your business is doing right, so we and our members can learn from your best practices.
Nominations for the 23rd Annual FPBA are open through May 27, and completed applications are due on June 15. You can find award criteria and nomination and application forms on our website (goering.uc.edu/awards). If you haven't already nominated your business for an award, please take a few moments to do so now. Not only is the recognition great for your company and employees, but your experiences have the power to help other family and private businesses develop and grow, further boosting our community and our reputation as a thriving business region. Please nominate other businesses that you believe are successful due to the power of their company culture as well.
We'll announce the winners during a live event on September 13 at Hard Rock Casino Cincinnati. We look forward to celebrating the Greater Cincinnati businesses and leaders who have positively impacted their organizations and the community through exceptional achievement.
A recent special event for our members and partners highlighted the optimism that many of us are feeling this year. Family Enterprise USA (FEUSA) President Pat Soldano presented findings from their 2022 Family Business Survey. Despite familiar concerns including inflation, labor issues, the pandemic, and tax worries, the survey found that an astounding 88.5 percent of America's family businesses expect revenues to increase in 2022, thanks to strategic choices they made and improving economic conditions as the pandemic recedes. Talk about something to celebrate! If you weren't able to participate in the live webinar, you can visit our website to see Pat's presentation.
In addition – John Augustine of Huntington Bank shared that it has been a difficult, but profitable 12- to 18-months for many businesses in the Cincinnati area, but challenges continue to mount around inflationary pressures, higher borrowing costs, shifting supply chains, and a tight labor market. Small business owners will need to be adaptable in the months ahead and should concentrate on managing both sides of their personal and business balance sheets.
The Goering Center's mission and purpose is to nurture and educate family and private businesses to drive a vibrant economy in the Greater Cincinnati region. We work hard to be a valued partner delivering knowledge, connection, and community. Our commitment to our members is to go both broad and deep. We will continue to bring you relevant offerings – in person and online – including an expansion of our diversity and inclusion initiative. We seek continued depth of membership by welcoming all family and private businesses to the Center. We're here to help and, in the face of headwinds, remember this: we are stronger together as we share, learn, and support each other.
If there's a silver lining to the challenges we've experienced over the last two years, it's that we have developed a greater understanding of what truly matters. And that's led many of us to renew our commitments to ourselves and our communities.
Our Goering Center institutes are filled with leaders of family and private businesses who've made the commitment to invest in themselves. They do so by taking part in programs that grow their leadership and communication skills. The lessons they learn fuel their creativity and ability to successfully manage through tough times, as we witnessed over and over again in the inspiring stories of our Family and Private Business Award winners last September. So what's the secret to our programs? Warren Buffet could have been describing it when he said: "Surround yourself with people that push you to do better. No drama or negativity. Just higher goals and higher motivation. Good times and positive energy. No jealousy or hate. Simply bringing out the absolute best in each other."
The Goering Center is proud of the role our institutes play in helping members experience the inherent joy that comes from being part of a community of engaged, optimistic, uplifting, and supportive peers who draw the best from each other.
Your next chance to get involved comes on March 9, when the Goering Center's next Leadership Development Institute (LDI)™ begins. At LDI, emerging leaders work alongside experienced CEOs and presidents in a positive, enthusiastic, and nurturing environment, to learn the leadership disciplines that will help them perform at their highest levels as well as build bonds with peers across the region.
Our Business Boards Institute (BBI)™ is another impactful opportunity to consider. In this turnkey program, you'll establish a highly functioning advisory board – designed to help you achieve company goals and drive change – in seven steps. Join the Goering Center team this March for a complimentary Overview to learn how BBI coupled with our BLUEPRINT™ – a concise tool that captures your stretch goals along with your execution plan – can work together, or independently, to deliver high-impact results for your business.
Finally, our Next Generation Institute (NGI)® helps those who will succeed the current leaders of their family-owned businesses. NGI gives you the tools you need to navigate the transition to ownership and leadership successfully, avoiding the pitfalls that many next generation leaders experience. Look for an announcement on when we will open registration for our next NGI, which begins in November.
The pandemic has demonstrated that we are indeed stronger together. And whether we are introverts or extroverts, there is nothing like finding your community. The Goering Center team looks forward to welcoming you to learn, grow, and build community with your peers at an upcoming institute or event.