Gain insights and build relationships with the region's leaders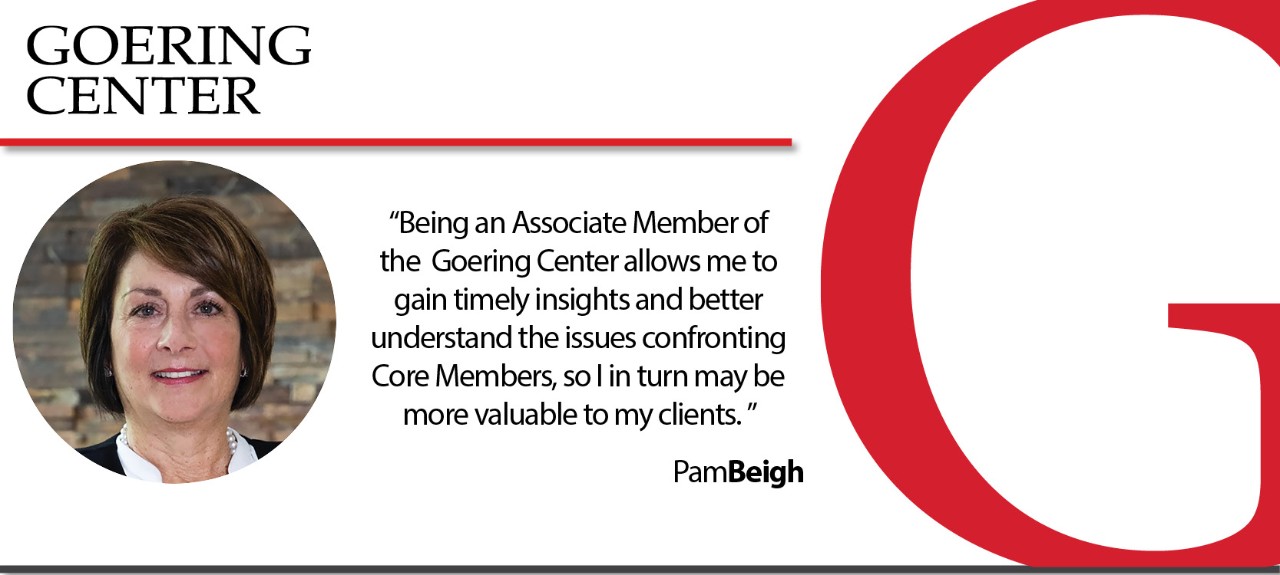 Associate Members are service providers who have an active interest in understanding the challenges and needs of family-owned and privately-held businesses (our Core Members) in order to help them. However, our Associate Members also pledge that they will not actively solicit or promote their business to our members so that we may maintain our sales-free, safe-haven environment*. 
Associate Members benefit from the same membership pricing as our Core Members on all single-day programs and educational institutes. As a result they are encouraged to:
Participate in Goering Center events and programs to gain insights into what their marketplace needs as well as gain visibility within it
Add value to their clients by regularly bringing them as guests to events they feel would benefit them specifically
Take advantage of our educational programs for their internal teams
Help advance the Goering Center mission by volunteering to participate on committees (Membership, Marketing, Programs, Special Events, etc.) and/or by becoming a speaker and/or panelist
In addition to the above key benefits, the Goering Center publishes a Professional Services Registry, where anyone seeking professional support or products can identify member firms with the right expertise. In-line with our safe-haven policy, this allows Core Members to identify potential partners within the Goering Center community and reach out to them, without being solicited by them.
Lastly, if you are interested in being a speaker at a Goering Center event and/or are interested in having a Goering Center staff member come and speak at one of your events, please contact Jim Bax, Programs Director, at 513-556-7817 or jim.bax@uc.edu.
For additional information about Associate Membership, please contact our Membership Development Manager, Nancy Schreiner, at 513-556-7130 or nancy.schreiner@uc.edu.
Note: a business needn't be a family or privately-held business to become a Goering Center Associate Member.
Bank of America

Blue & Co



Cincinnati Works
CF Bank
Entercation Info Inc.
Family Enterprise Consulting, LLC
First Commonwealth Bank
Fort Washington Investment Advisors

Ingenium Plus
LCNB Bank
The Lyon Group
O'Connor, Acciani & Levy
Strategic Property Exchanges
The Rosselot Financial Group
TrellisPoint
Wood, Heron & Evans, LLP
*Goering Center Safe Haven Policy
The Goering Center respects the privacy of our members, and provides a safe-haven environment. Members agree not to "cold" market to or solicit other members, but are encouraged to buy from each other. Names, addresses and contact information are strictly confidential and are to be used only for member-to-member communications.