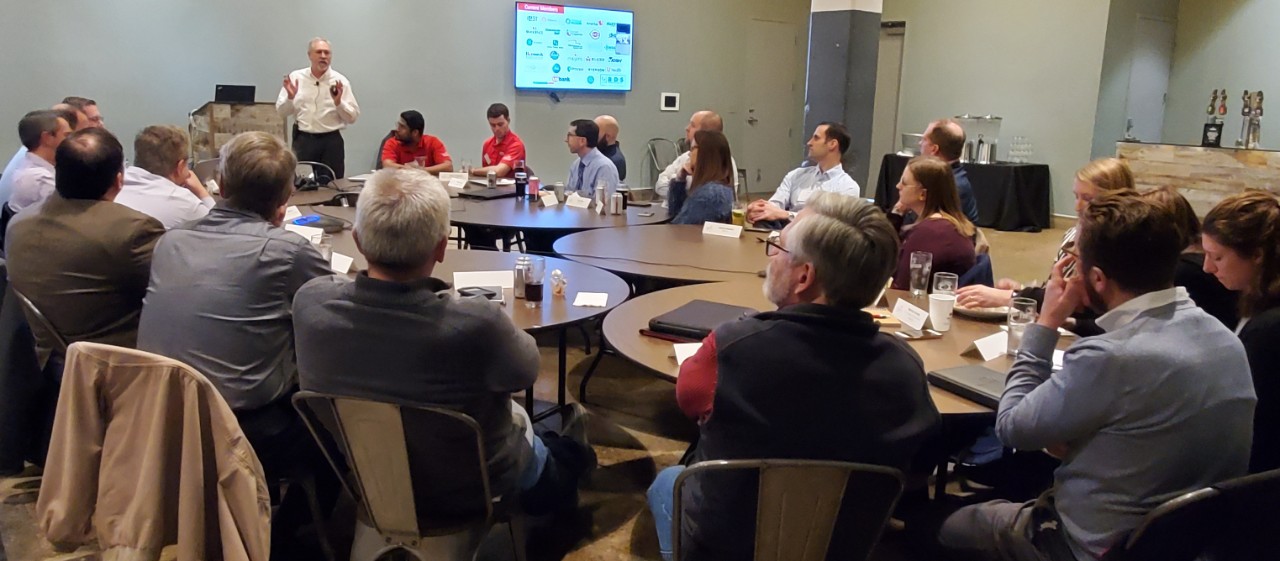 We seek members from for-profit, non-profit, large and small organizations from all industries and disciplines who are interested in the successful application of analytics. We engage organizations who are willing to commit to annual sponsorship and will share their analytics expertise and best practices with other members.
A key benefit of Center Membership is the ability for Member representatives to participate in a bi-monthly afternoon forum to network, benchmark and learn from each other and special guests—everything from tools, vendors and techniques to people, project and organization management.
Member representatives include leaders of analytic functions, key technical leaders, and business leaders who support the need for effective analytic capabilities to drive business objectives. Typical attendees hold director level positions or higher within their organizations and are responsible for disseminating information from the Center to their broader organizations, as well as coordinating contractual obligations with the Center.
Kevin Kelley of Great American Insurance Group discusses membership in the University of Cincinnati's Center for Business Analytics.
Topics
Member Forum agendas usually include a special topic, where an expert is invited to present and discuss with representatives to share common experiences and how problems are tackled effectively. Topics cover a broad range of relevant areas, from technology advances to organizational leadership.
Locations
About half of the Member Forums are held on campus; the balance held at Member facilities or other locations of particular interest to promote learning and networking opportunities among the Member representatives.
In addition, for those members who are unable to attend in person, live-streaming technology is employed to allow for remote participation.
Recent Forum Topics
Analytic Executive Interviews: McKesson, P&G
Member Profiles on Analytic Organizations
Microsoft's Analytics Strategy
Data Lakes
New Analytics: Intelligent Futures
Leveraging Leading Indicators in Forecasting
Storytelling: Keeping it Simple and Memorable
Visualization Platform Market Outlook
Machine Learning's Unintended Consequences
Artificial Intelligence: What's Real?
Open Source for Big Data: An Expert's View
A Deep Learning Approach for Vision-Based Analysis of Neighborhoods
Applications of AI, ML, and Predictive Analytics at GE Aviation
Text Analytics at NIOSH
KEY BENEFITS OF MEMBERSHIP
Professional Development
Peer Networking
Leadership skill development
Deep-dive topical training
Benchmarking
                                   Center for Business Analytics Membership Options
Benefit
Private*

 Silver  
 Gold
Platinum

# Representatives

     1

     1
     2
     3


Registrations/Event

     2
     5
     7
      15

Member Meetings

Bi-Monthly
Bi-Monthly
Bi-Monthly
Bi-Monthly

Student Team
Projects

1
(Limited Scope)
1
(1-4 students)
2
(1-4 students per)
3
(1-4 students per)
Professional Development
Courses  
$95 discount per attendee
$95 discount per attendee
2 Free Seats
$95 discount per attendee
after
5 Free Seats
$95 discount per attendee
after
Visibility
Event Recognition
Network Facilitation

Event Recognition
Network Facilitation

Event Recognition
Network Facilitation
1/4 page Event Program Ad
Event  Recognition
Network Facilitation
Full page Event Program Ad

Faculty Collaboration

 
 
 
1 Session/Year

 

* Private Membership is exclusively for businesses with less than 25 employees

Annual membership fee applies Jan-Dec.  If joining after start of year, fees will be prorated.
For center membership benefits and details, corporate analytics training, internship placement, or professional analytics needs, please contact: